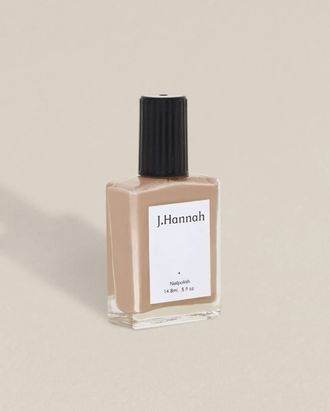 I never thought I would be a beige person. But all I crave now is a quasi-unflattering shade of beige on my nails, like J. Hannah's Chanterelle.
Indie polish brand J. Hannah is good at stuff like this. (It's also seven free, i.e., made without seven particularly noxious nail-polish ingredients, and it's made in the USA.) I've previously called these the "ugly pants" of nail polishes, with shades that toe the line between off-putting and cool. Looking at them inspires confusing emotions. I am uncomfortable. I wrinkle my nose. The colors are so dull, I think. A few shades sort of resemble vomit. But … maybe I like them? I don't know! They're just ugly enough to be cool, but not so ugly as to be completely hideous.
In other words, they're jolie laide, and the very beige (maybe greige?) Chanterelle is no exception. It's the color of a sourdough starter. It's also the exact color of the cardigan my mom keeps in the office to ward off exuberant air conditioning. But I like it. (How can I be into something so ugly and yet enjoy pumpkin-spice coffee drinks and gummy-bear lip balm? I guess I contain multitudes.)
Every product is independently selected by our editors. Things you buy through our links may earn us a commission.