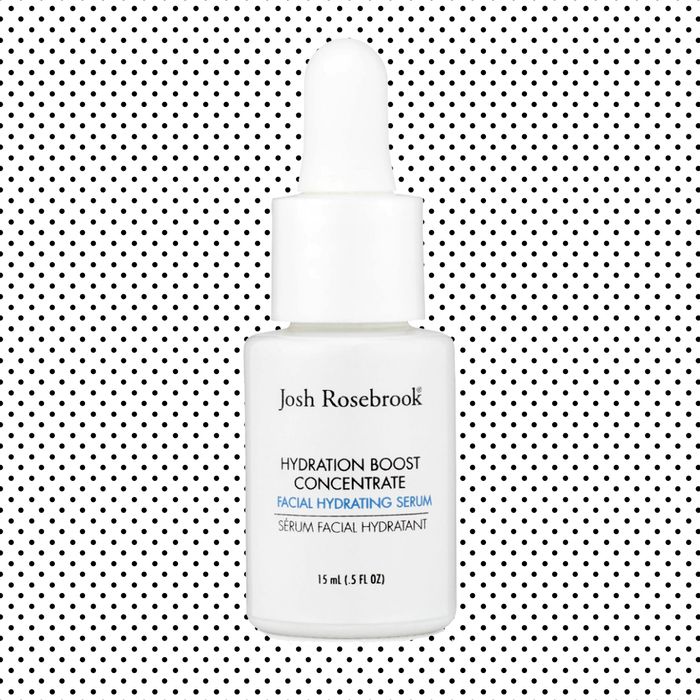 I might love snacks, but my skincare routine is like a drawn-out, multi-course meal. I'm not complaining. It's my job to test many products, so every night is like a French Laundry tasting menu set at Sephora. There are amuse-bouches (facial mists); there are the appetizers (a toner to whet the skin's appetite); and multiple entrees (serum, followed by moisturizer). Then there's dessert (maybe a face oil, to seal all the moisture in), and if I feel up for it, after-dessert chocolates (a mask).
But I'm not always in the mood for a Henry VIII–like feast of skincare every single night. When I want a break, I've been reaching for Josh Rosebrook's Hydration Boost Concentrate. Just two drops makes my skin look more velvety, dewier, and less gray — immediately. It comes in a tiny bottle, is brown in color (don't worry, it absorbs with no tint), and smells like a slightly sweet herbal tea. I like to put a few drops in my palms and gently press it into my skin. Right away (I swear!) I can see my face start to un-prune.
The serum is packed with a distillation of good-for-you moisturizing and anti-oxidant ingredients including glycerin, hyaluronic acid, aloe vera, horse chestnut (an anti-inflammatory), and calendula (another anti-inflammatory). Because it's so concentrated, it comes in a tiny bottle. But I promise you it will last a long time. Even on days when I forget to put on daytime moisturizer, it still makes my skin feel plump and taken care of. As Lizzo would say of this product's hydration properties, it's not a snack, it's a whole meal.