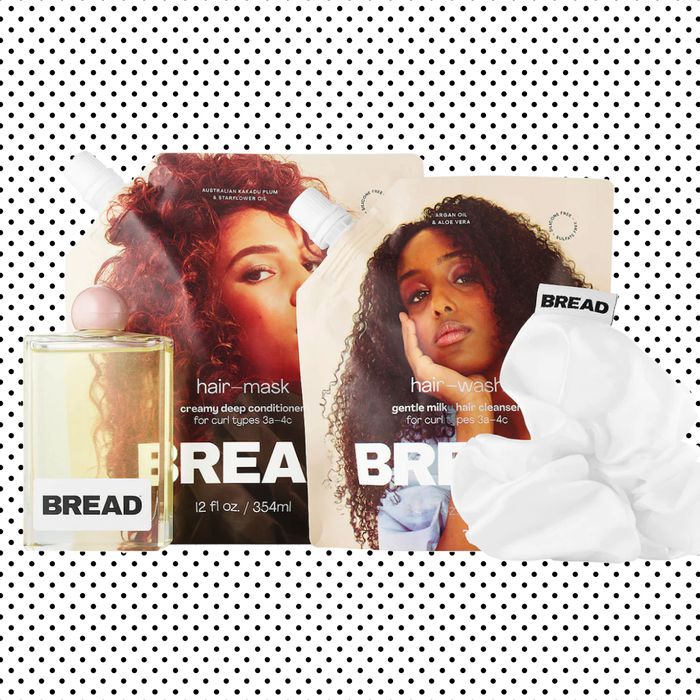 Back in June, Sephora signed the 15 percent pledge, promising to dedicate 15 percent of its shelf space to Black-owned businesses. One of the newest brands to join the retailer in fulfillment of that oath is Bread, a clean and vibey hair-care brand started by entrepreneur Maeva Heim (who has 4C hair herself.) The vegan, cruelty-free line consists of a three-step system: a wash, a deep conditioner, and an oil. The Cut asked several of our curly-haired colleagues at Vox Media to try it out. Here's how their curls liked being fed with Bread.
Erica Smith, beauty writer, the Cut
Being a curly-haired person who also identifies with the "lazy-girl hair" lifestyle is very hard, so I'm glad this line exists. I stopped using styling products completely in March and have basically been living in a variety of curly buns — two things this line supports whole-heartedly.
My favorite product is the Milky Hair Cleanser. The milky texture is heavenly, and the faint lather gets you the thorough cleanse of a shampoo, with the gentle, hydrating feeling of co-washing, which I love. I could honestly stop after this step, since it left my 3C curls completely content:  clean but not crispy; moisturized but not weighed down; soft, while still embracing all my natural frizz. Because of that, the mask and oil were more like nice-to-haves for me. The former feels like a special, velvety treat on an extra-long deep-condition day, while the latter is more like a quick pick-me-up for instant shine or perfuming hair.
Speaking of scents, those are my only qualms with the products. They're all extremely sweet-smelling in a nostalgic way (to me, the cleanser smells like Fruit Loops, the conditioner smells like marshmallows, and the oil smells like Jolly Ranchers). If that's your jam, you'll love them; each leaves your hair noticeably scented after use. I like more toned-down or earthier scents, so it was a bit much for me. I'll probably promote the cleanser to the role of my regular shampoo, though.
Also, the silky puff scrunchie is perfect in every way. It lives in my hair now — five stars.
Mallory Johns, business development, Vox Media e-commerce
My hair is firmly type four — she's curly when she's soaking wet and coily when she's dry — and she needs lots of TLC. After countless hours trying gels and creams and watching my favorite YouTubers washing and styling their hair, I can confidently say I've found my holy grail stylers and leave-in conditioner. But I've struggled to find a shampoo that really gets the job done without stripping my hair completely dry. Enter: Bread. I was skeptical that all I'd need to do was use their hair wash, mask, and hair gloss (a.k.a. oil), but I gave it a try.
Upon receiving my samples, I was struck by the packaging — it's so bougie (in the best way possible) — and the hefty portions. As any curly-coily girl will tell you, it takes a lot of product to fully saturate our curls, so hefty portions are key. Second thing I noticed were the smells. Divine. The hair wash smells like Fruity Pebbles and the hair gloss smells like SweetTarts.
In the shower, I followed the instructions on the hair wash to separate my hair into sections, and then rinsed it out. Now, I've used shampoos and co-washes from Carol's Daughter, Pantene, Mielle Organics (the list goes on and on), and not once have I ever seen the curl definition I saw from Bread's hair wash alone. Next, I moved onto the hair mask, which was pretty tricky to squeeze out of the packaging. Regardless, I followed the steps, sectioned off my hair, and let it sit for ten minutes. After, my curls were soft, detangled, and fluffy. And, finally, I moved onto the Hair Oil Everyday Gloss. Normally, I'd use a leave-in conditioner before adding oil to my soaking-wet curls, but, again, I trusted Bread's process. After applying about a handful of the silky gloss, my hair was soft, bouncy, and frizz-free — which is usually near impossible for my hair without the extra moisturizing my leave-in provides.
I could have ended right there, but lately I've been obsessed with individually finger coiling each and every section of my hair, so I added my holy grail hair gel, diffused it, and went to bed. The next day, I woke up, added more Hair Oil Everyday Gloss to my 80-percent-dry curls, and reshaped them with more of the gel. I was amazed at how good my day one hair looked! A little frizz, which is to be expected in late August, but overall my curls were juicy and my hair smelled delicious.
My verdict: tens across the board. I would definitely recommend this to all my curl-friends.
Monica Burton, Eater editor
I tend to be pretty low-maintenance with my 3B hair, so Bread's three-step system really appealed to me. The in-shower experience was great: The hair wash and the hair mask both smell delicious (the former reminds me of Trix cereal). I also liked the packaging more than I expected. I found the bags made it easy to squeeze out product without wasting any, although having to keep track of the small cap is a slight downside.
The hair mask is probably my favorite of the products — the slip on the conditioner made detangling a breeze, and after slathering on the oil as the final step, my hair dried super soft with tons of shine. It also felt incredibly light and had way more movement and volume than I'm used to (lately I've been styling it with Curls leave-in conditioner and gel).
Still, I haven't cut my hair since February, and it shows. While I was loving how big and curly my hair looked on day one, by day two the curls lost much of their definition, turning mostly to frizz. Using the oil between washes helped add some of the curl back in, but for a wash-and-go style, I need more product. That said, I'll definitely be using the hair wash, mask, and oil alongside some styling products with more hold.
Zen Ren, community manager
Although my 2B/2C hair isn't Bread's target hair range, I've been surprised at how effective everything was for my thick, dry, high-density waves. My personal standout was the hair mask, a marshmallowlike cream. It smelled just like coconut whip, and as I scrunched it into my hair, I was taken aback by the softness and fluffiness it immediately imparted. After air-drying, my head was showing off the best curl pattern it has had in months.
I was also impressed by the hair wash, which has kept my greasiness at bay much better than some of my stronger cleansers. The hair oil, when applied right after the shower, was perfect for glossing up each strand without weighing anything down. The one downside I experienced was how non-ergonomic the wash and mask were — I had trouble squeezing the bags with wet hands, so I imagine folks with mobility needs may want to decant into another container. That said, this line both smelled incredible and performed beautifully. I plan to purchase replacements when I'm done.
Jaya Saxena, Eater staff writer
I have hair on the 3A side of things, and have always had a bit of a Goldilocks problem with haircare. Either it's made for hair much coarser than mine so it weighs mine down, or it's made for people who do a lot more styling to my hair than I do. I admit I was a little apprehensive of Bread's instructions that I separate my hair into four sections and massage each product in — I was raised in a quick-shower household — but, then again, that's probably what I should have been doing with my hair this whole time.
The products smell amazing, like Smarties candy and vanilla, and really made my hair feel smooth and hydrated. The hair oil was a little unwieldy to get out of the bottle, but a little felt like enough to keep my hair from getting really frizzy without making it too heavy or greasy. My curls feel as good or better as they have with Miss Jessie's, Mixed Chicks, Briogeo, and all the other products currently on my dresser. It definitely seems worth the cost, though I'll always be slightly resentful that I'll never be able to get away with a cheap drugstore shampoo.
Kerensa Cadenas
I've used Bread for a few weeks now and have struggled to find something that my hair (type 2A) liked after retiring Deva Curl last year. During quarantine, for whatever reason, my hair has been incredibly finicky — I used to wash it maybe once a week or so and it would be fine, but of late I've found it to be all over the place. It's overly dry one week, a bit too greasy the next, so I've been trying to find something that could get it closer to whatever "normal" might be.
Both the Bread shampoo and conditioner are nourishing, yet light enough to bring my hair back to that ideal once-a-week wash. I can use the conditioner in between washes to perk my strands up without weighing them down. Plus, it smells like top-notch baked goods and not in an overly sweet way. The only thing that didn't work for my hair was the Bread hair oil, which made it greasy — so I think it just wasn't meant for me. But I'd totally recommend this brand to anyone with curly/wavy cusp hair.
Every product is independently selected by our editors. Things you buy through our links may earn us a commission.