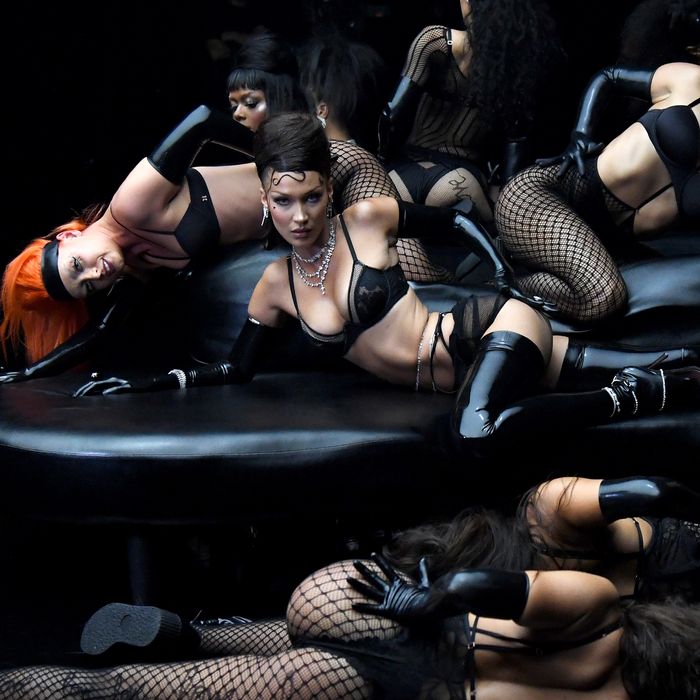 Photo: Kevin Mazur/Getty Images for Savage X Fenty Show Vol. 2 Presented by Amazon Prime Video
"Skin … Touch … Feel …"
Those three words open volume two of Rihanna's Savage X Fenty fashion show, which premieres on Amazon Prime today, and they're enough to provoke a tingly sensation. In the midst of a global pandemic, when rubbing and bumping and breathing on each other is largely forbidden, the hour-long program is a feast for starving eyes. It's a touchfest starring some of the world's most beautiful people: Bella Hadid, Lizzo, Normani, Demi Moore, Shea Couleé, Willow Smith, Rosalía, and Cara Delevingne, to name a few. Filmed at the Los Angeles Convention Center in September, it's also nothing short of a miracle, and we are so grateful that Rihanna was able to pull it off.
In an accompanying interview, Rihanna says that she worked hard to make the show as "visually enticing as possible" for viewers at home, who are "stuck in the midst of the wildest times of [their] lives." Per usual, she wanted to present "completely extreme levels of inclusivity," with every body type, gender identity, age, sexuality, and skin tone represented on-screen. She also just wanted the show to be "something fun to look at," she said. Because, in addition to some sexual energy, she knows that a good distraction is what people crave right now.
The program opens with a spotlight on choreographer Parris Goebel, who worked on the show last year as well. "Parris is a badass bitch," Rihanna told the Cut at the time. "I love how she makes everything sexy, despite society's ideal of what sexy looks like. She makes me feel like the shit. I don't care about any skinny Victoria's Secret model when I look at Parris. I want to be that woman on the inside. I want to feel that bombastic. She gives me so much hope."
The Parris Goebel Effect cannot be understated; it really is what makes the show hit as hard it does. Her moves convey power and confidence, deliberately highlighting the natural ways a body can bounce and jiggle and flex. You get the sense that that the dancers feel incredible doing her choreography — as though, when it's over, they're so full of adrenaline that each one could flip a car.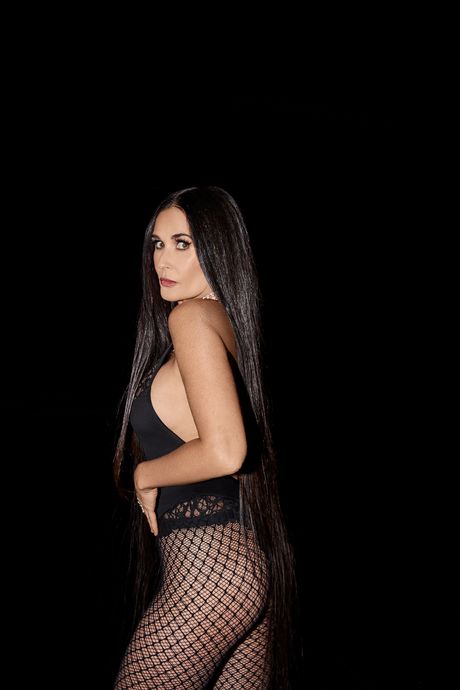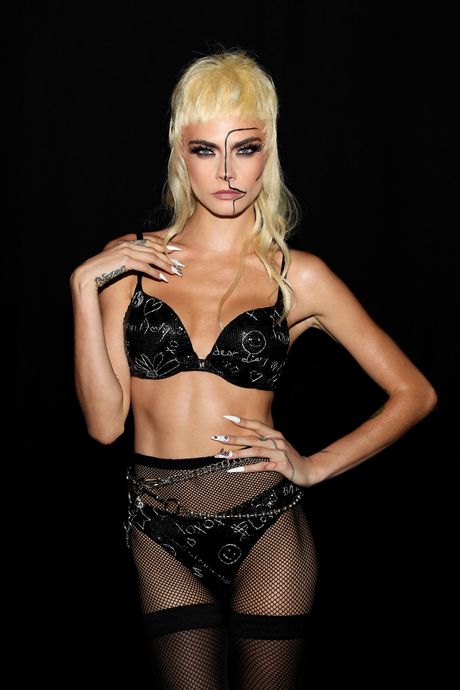 Credit also goes to Rihanna, of course, for designing lingerie that actually supports the cast as they dance. The fact that nary a boob goes rogue during the hour-long performance is a testament to her understanding of the human body — what fits, and what feels and looks good. "When it comes to the collection, we stepped it up," she says proudly.
Compared to last year, the show seemed slightly more serious this season, with lots of black lingerie, fishnet tights, and arty mullet haircuts in the first half. "It's a mood thing, always," Rihanna says at one point, and it's fitting that the mood of this particular moment would be a more somber, sultry one. But that doesn't mean it was depressing, or toned-down. A particularly steamy "Savage Not Sorry" section featuring Indya Moore, Bella Hadid, Demi Moore, Precious Lee, and Jaida Essence Hall, among others, will make your jaw drop.
"I did my rehearsal and I was a little bit nervous," Demi Moore said in an interview. At 57, she was "a lot older than everybody else involved." But the cast made her feel comfortable. "The most incredible thing was the open outpouring of love and support from everyone, but especially all of the women," she added.
To kick off a more colorful second half, Lizzo takes center stage in blue lingerie. This was my favorite portion of the show, because it felt like a reflection of the isolation so many of us have experienced over the past six months. Lizzo dances and caresses her body in front of a mirror as D'Angelo's "Brown Sugar" plays.
After that, Bad Bunny gives a performance looking a lot like Borat. (Without his glow-in-the-dark Crocs, sadly.) Then, we cut to a psychedelic Garden of Eden-type set, where dancers do a gorgeous, emotional number to Frank Ocean's "Self Control," followed by Rihanna emerging from a flower — in case you weren't crying already. If you follow her on Instagram, then I don't need to tell you the power of her slow-motion walk.
The show's finale takes place in a neon-green warehouse/factory. It's maybe a weird choice, given the whole Amazon thing, but … boys! Following last year's appearance of Christian Combs — Sean Combs's son — in Savage x Fenty boxers and nothing else, Rihanna said she was overwhelmed with requests for a men's line (one that everyone can wear). So, here it is. In addition to dudes of all shapes and sizes modeling silky robes and pajamas, Willow Smith also makes a stunning appearance, along with Paris Hilton, Rico Nasty, Chika, and many, many others.
To close, Rihanna does a final strut in some leather jorts and tosses a knowing giggle to the camera. As an added bonus, Travis Scott performs on a forklift as the credits roll, leading me to believe he showed up late.
Overall, Savage x Fenty Vol. Two is not only fun to look at, but also a much-needed jolt to the body and soul. Indya Moore said: "I'm just excited to sit in my living room and chill and watch Black women be beautiful." So if you're looking for a way to chill and not read the news this evening, you couldn't find a better one.