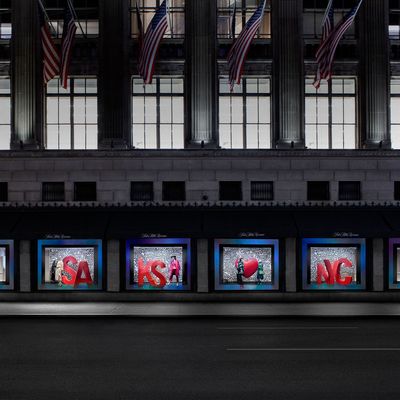 Photo: Luis Guillén for Saks Fifth Avenue
Saks Fifth Avenue has been using its windows to spread some good vibes after being shuttered for so long. Today the store unveiled its newest window display as an ode to the city and its designers. The installation is just one piece of the department store's larger campaign, "Saks <3 NYC," which is a celebration of the city's creativity, strength, and sense of community.
"New York City is our home, and we remain committed to supporting and giving back to our community as it rebuilds and comes back stronger than ever," said Saks's chief marketing officer, Emily Essner, in a statement. From Friday, October 16 through Monday, October 19, Saks will host their charity shopping weekend, with ten percent of sales from the New York store going to God's Love We Deliver, the Madison Square Boys & Girls Club, and Broadway Cares. "By showcasing New York–based artists and designers as well as nonprofit organizations working to make a positive difference in the lives of New Yorkers, we hope to uplift our city and its extraordinary people," Essner added.
The "Saks <3 NYC" windows, which will be on display until November 2, were designed by the New York–based artist Timothy Goodman and feature fall/winter pieces from local fashion designers including Jason Wu, Brandon Maxwell, Oscar de la Renta, and Carolina Herrera. The campaign also includes a curation of NYC-inspired merchandise that will be available at the New York flagship store from Tuesday, October 20 to Thursday, October 22, but only for top clients — you know, real New Yorkers.