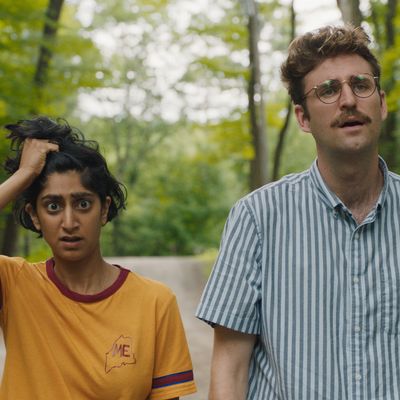 Photo: Bleecker Street Media
When the aliens invade earth and beam you up into their space crystals for a trip through the solar system, are you hoping to take monogamy with you? If so, Alex Huston Fischer and Eleanor Wilson's rapturous new extra terrestrial romp Save Yourselves! is absolutely the film for you. But even if you just like to have a laugh at the expense of self-involved 30-something professionals invading Brooklyn from the suburbs, you'll find plenty here to howl at. There is, as the genre refrain goes, "something out there" for everyone.
When we meet the film's protagonists they are having trouble finding it. Jack (John Reynolds) and Su (Sunita Mani) work jobs they don't care about and are full-time caretakers to their smartphones on the side. Su is 30 and worried that she's lost the thread — professionally, creatively, and morally. She'd like to be vegan again, for starters. Jack is 34, very contented by his relationship with Su, but also longing for a higher purpose. Or a hobby. Those lofty ambitions are thrillingly set in motion when they run into Jack's friend Raph (played by Ben Sinclair in the same style as High Maintenance's "weed guy") at a party for friends at a bar. Raph gives Jack a crystal and offers the couple his cabin upstate for a week, perhaps sensing their hunger for meaning in a milieu where excitable chatter quickly turns toward the void.
The rest of the film unfolds upstate, where Jack and Su make a pact to go completely offline, and spend the next few days bemoaning their inability to Google how to catch rabbits and light firewood. It works! Their conversations become more intimate, and the two have sex on an unfinished puzzle.
The writing is very funny at times, but it's a credit to the two leads that they juice every line, skewering themselves on even the safest barbs. Reynolds is especially fun to watch as a contemporary version of the archetypal neurotic New Yorker who has "no skills" and night terrors but clearly gets all his work done anyway. "I'm such a bad listener!" he whines in a hilarious monologue on his perceived lack of manhood. "I can't even tell when the bathroom is dirty!" Mani is dead-on perfect as an obsessive problem solver whose life, by all external measures, is running smoothly. For the answers to her own unexplained misery she looks outside herself again — to her boyfriend, whom she assails with a battery of schmaltzy relationship questions she got off the internet and that were probably designed for SEO ("what are your gifts, Jack?").
When the aliens show up it's as a vengeful instantiation of the couple's internet-curated lifestyle ­— nimble, murderous, furry "poufs" that wouldn't be out of place in a West Elm shopping cart or an Instagram ad. At first glance, they might be fluffy yoga balls, or tiny ottomans, or squirrely art objects — it's only once they unmask themselves as harbingers of doom that Jack admits he thought they were "decorative poufs," but he doesn't exactly know what those are either. The poufs, once they reveal their true purpose (to take over the world), are great. They make cuddly animal noises and are otherwise silent. They can levitate and swing through the air on weird long tongues like Spider-Man. Sometimes they give off putrid aromas, other times drugs good enough to convince a couple of hipsters that a tree is officiating their wedding. I'm not gonna lie, I wanted to root for the poufs even though they brutally slay some people with their tongue-webs. That's charisma for you.
At first watch I thought "this has to have been made by the same people who created Search Party" — but it isn't so. Still, fans of the excellent HBO Max series — about late 20-somethings mired in vain introspection and vision quests for social approval — will find themselves on familiar ground. It also doesn't hurt that both Reynolds and John Early play versions of their characters in Search Party (Early appears briefly as a friend of the couple planning a wedding with a "low carbon footprint" that torturously involves flying a brass band over from New Orleans).
Where Search Party and Save Yourselves! diverge is in the conclusions they come to about their bratty Brooklynite subjects, with the latter opting for a much more sympathetic portrayal. Initially the film's great revelation is that the crowd of millennials gentrifying Greenpoint don't have a whole lot of tools with which to change their (emotionally) desperate lives. Then the aliens descend, but that still doesn't feel like a larger revelation. It is at this point the film lets on it is firmly on the side of its hapless protagonists, who though they now face considerable material difficulties, continue to work on themselves by being better companions and more thoughtful disaster survivors.
By the time they leave Earth, Jack and Su have built a trusting partnership, taken some interesting risks, and had their phones permanently disabled. It is difficult to escape the insinuation in this last portion of the film that the aliens are in fact imbuing the protagonists' lives with the meaning and direction they sorely lacked in Brooklyn. It's too bad they had to lose the world to find themselves.