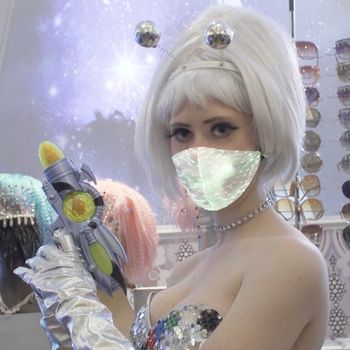 Photo: Courtesy of Screaming Mimis
It's possible that this year would have been the biggest Halloween ever at Screaming Mimi's — and that's saying a lot, considering that the Greenwich Village vintage shop has been open since the '80s, when Cyndi Lauper worked there.
"It's a triple-header," explained store owner Laura Wills. "It's daylight savings on November 1, so we have an extra hour to party; it's the blue moon; and Halloween is on a Saturday night," she said with a sigh. For Halloween enthusiasts, it hurts to even think about what this year could have been were it not for the pandemic.
But Screaming Mimi's is carrying on. A New York institution that sells both vintage and costumes, the store decorates its windows every year with a new Halloween theme. This time, it is outer space, which is fitting considering that Earth is the last place anyone wants to be. "We have this fantasy of a great Zoom party with everyone dressed as aliens talking to each other," said Wills. She has even stocked iridescent face masks and bedazzled face shields for the occasion. Below, we spoke to Wills about what Screaming Mimi's has planned costume-wise. Perhaps it will inspire you to get dressed up.
What does a normal Halloween look like for you?
Halloween has always been a big holiday for the store. We have a lot of customers that come every single year to see what we're doing. We take great pains to style people from head to toe. I have a really great staff of stylists who love to do masquerades. We really seek out costumes. All year long, we travel the country. We look specifically for opera and theater costumes. Two or three years ago, for example, I heard that the Royal Shakespeare Festival was opening their archives in England and they were going to do a sale, so my buyer went. We've gone to Santa Fe when the Santa Fe Opera was cleaning out their archives. The costumes are almost couture. That's what we're about: very, very special looks. Not costumes from bags.
How early would you normally start gathering costumes for Halloween?
Right after Burning Man [laughs]. Burning Man is like a mini-Halloween, in a way.
How did you land on the space theme this year?
When the pandemic hit and everyone was like, Oh my God, I just wish I could escape, we were like, Ding! That's our theme: escape Earth. We really had fun with it. We teamed up with a lot of creatives who had a lot of time on their hands. Like Perfidias Wig World, which had a job with Wicked on Broadway. Eric Vidmar, who's one of the creative directors at Paper magazine, did some masks for us. Creative but careful — that's our approach. I thought the face shields were great because people can still sip a drink. And then we have some glamorous face masks as well.
What are some of the costumes that you've worked on so far?
It's been interesting to hear about the themes of peoples' parties this year. Dystopia is a big theme — surprise, surprise. Intergalactic, of course, is another theme. We have some good studded masks for that. Marie Antoinette's "Let Them Eat Cake" is another. We do a mean Marie Antoinette [laughs]. And for men, that's when a lot of the opera costumes come into play, like ruffled collars, tailcoats, breeches, powdered wigs. In a weird way, it's mirroring what's going on.
Does Halloween always do that? Mirror what's happening in real life?
We always look at pop culture and fashion when we come up with our themes. So, yes, definitely. We're not going to have Trump masks, but in our way, we [respond]. It's escapism. People get to be whoever they want to be for one night. They can take on a different persona and become a different character.
So it sounds like people are still going to celebrate?
You know what? There are people who are actually having parties where they hire a doctor to give COVID tests on the spot. I was like, Wow, you really want to have a party.
I can't even imagine how much that costs.
One person told me like $10,000.
Do you have any personal plans for your costume?
Halloween Day is always nuts in the store, with people who just woke up and were like, Oh my God, I have to go out. We have a tradition that when everyone's gone and the place is trashed, we dress up in whatever's left and have food and drinks, and everyone goes on their way. We thought about not doing anything this year, but then we were like, "No, we owe it to our customers."