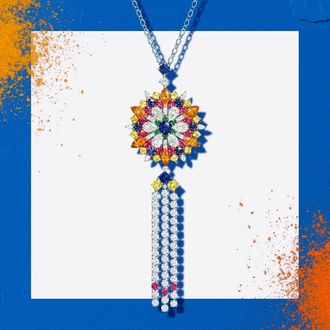 In Gentlemen Prefer Blondes, when Marilyn Monroe exclaimed, "Talk to me Harry Winston; tell me all about it," she was proclaiming her love for the high jeweler's diamonds. Marilyn knew a thing or two about gems, but she still might've fainted at the sight of the recent Winston Kaleidoscope collection.
Harry Winston prides itself not only on craftsmanship, but also on maintaining a captivating balance of light, color, texture, and detail from every angle. In the 1990s, the brand took these qualities and created something new and unexpected with a literal kaleidoscope — golden and encrusted with expensive jewels, of course. It was less a kids' toy and more of an objet d'art that would replicate the intricate facets of a diamond with the refraction of light and color.
Almost 30 years later, with the Winston Kaleidoscope collection, it's taking the concept another step further. The necklaces and watches offered replicate the view through the lens of a kaleidoscope with all kinds of precious gemstone combinations, from red rubellites to green tsavorites, purple sapphires to aquamarines, all paired with brilliant diamonds.
They're so expensive that they're listed as "schedule an appointment" — but gawking is free. Take a look at some of our favorite pieces below, or visit in person at 701 Fifth Avenue now through October 23.