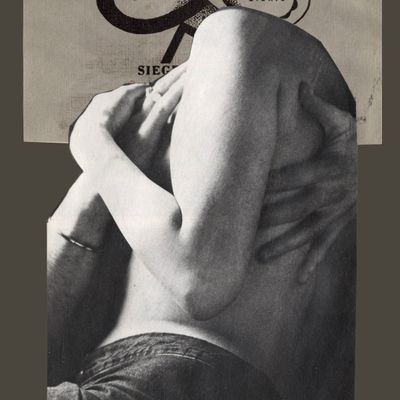 Photo-Illustration: James Gallagher
This week, a woman applying for law school goes on a kinky Tinder date unlike any other: 34, single, Brooklyn.
DAY ONE
2:30 p.m. The afternoon seems both too long and too short: It's too late to start a project but too late to give up on the day and wind down. I'm feeling particularly addled because I took the LSAT yesterday. I've always thought of law school as a fallback plan. I studied art history in college, spent the next decade of my life on things that mattered to me (art, museums, books) and found myself in debt and discontented. Lately I've been thinking about how dissatisfied I am with my low-paying graphic-design job in publishing. I decided that if I'm going to do something I dislike, I might as well get paid more for it! However, the prospect of adding thousands of dollars to my existing debt for a career about which I feel ambivalent frightens me.
5 p.m. I resort to my old anxiety-kicking standby: Tinder. I'm in Chaos Mode, I think to myself as I swipe right on every profile photo I find attractive — even the headless, improbably muscular torsos. I'm hankering for a match-induced dopamine hit.
5:40 p.m. I encounter a profile that, instead of selfies, has pictures of a series of flyers, hand-drawn, photocopied, and posted around the east village, advertising this man's candidacy for the role of Boyfriend. It seems corny, like performance art. The last photo is of a reasonably attractive man wearing a COVID mask. I find the flyers a little precious, but this profile meets my greatly reduced Chaos Mode standards and I swipe right. We match. "S" opens the chat by telling me we've matched before, and even exchanged a few messages. I have no recollection of this — his face, obscured by the mask, did not ring a bell. Surely I would have remembered the flyers?
7 p.m. We end up chatting for hours. He asks me about my recent romantic exploits. During the early months of lockdown, I'd returned to an ex-boyfriend for a few months and was reminded of the myriad reasons we broke up the first time. Later, I found myself with an emotionally unavailable artist.
DAY TWO
7:15 a.m. I stream my exercise class. I try to keep the noise down because my roommate is sleeping.
8:30 a.m. Today I start work a bit early because I have a dentist appointment later in the morning. After over 20 years without a new cavity, I now find myself with five new cavities and a hole in one of my molars.
11.a.m. When I check out, the receptionist informs me that I maxed out my annual coverage limit and that I would need to pay the remainder out of pocket. I put it all on my credit card. I make an appointment for the following week to have the next set of cavities filled. In the elevator, I wonder again how I'm going to pay all of my debts on my very limited salary, of which nearly half goes to rent. Law school beckons once again.
3 p.m. I spend the rest of the day fretting about law school and trying to get out of doing work.
DAY THREE
8:30 a.m. I think of the book design I've been dragging out for months and feel very tired. I go back to sleep.
9:00 a.m. "I am dying to know," S texts me, "how you like to be fucked." I give him a rote summary: "rough. I like it when my hair is pulled, I like to be slapped and spanked and spit on. I like to choke." I've learned how to be explicit about what I want. Though I am not pleased about the prospect of Crossing a River to hook up with a man, I also urgently need a distraction.
1 p.m. He asks me a series of questions about my preferences: Do I like this or that? Fast or slow? Hard or soft? What do I like to do after sex?
6 p.m. He suggests that we meet up later this week and says good night.
DAY FOUR
10:30 a.m. I walk to the neighborhood bookstore to pick up two books that I ordered. As I'm walking back, S informs me he has an idea for our first encounter. "I'll text you later with details," he writes.
1:00 p.m. I start one of my new books while I eat lunch.
3:00 p.m. I write one single email and then I take a nap.
7:00 p.m. I nap too long. I hate it when I wake up and it's dark. I stream an exercise class to wake myself up and do the work that I neglected to do during the day.
DAY FIVE
11 a.m. I start the other book. The sentences are multiple pages long and are strewn with curses and bitter nihilism — I can't put it down.
8:00 p.m. I text S and demand more details about what he has in store for me. He tells me he's creating a "self-guided, submissive" experience. He asks if he can send me a questionnaire to complete as part of his preparations. I give him my email address and we make plans for Saturday evening.
12:00 a.m. He sends me the questionnaire but I'm already asleep. Half an hour later he texts, "Have I shocked you?"
DAY SIX
5 a.m. I have coffee and study the questionnaire, in lieu of my usual crossword. It's impressively detailed. From questions like "How interested are you in experiencing pain?" and "How interested are you in being submissive?" down to my preferences for specific sex acts and what I want my safe word to be. I ponder this question for a minute but almost immediately know what it has to be: "LSAT."
He even asks what I'd most prefer to do after sex — spend time together, leave, cuddle, sleep together, shower alone, shower together. I'm moved by the level of concern this man has for what I desire from the experience.
10:00 p.m. S texts, letting me know he's been hard at work on preparations for tomorrow and will conduct a dress rehearsal before I arrive. A dress rehearsal!
DAY SEVEN
10:00 a.m. I have coffee and await a text from S with instructions on what to do, where to be and when. I'm nervous but feel a strange sense of calm at the same time.
3:00 p.m. S texts. I'm supposed to show up at his building at 8 sharp. He'll be waiting for me.
7:30 p.m. I arrive in Manhattan early. I'm surprised I'm here on time — let alone going through with this at all. I sit on a park bench near his building and sip on some whiskey to calm my nerves. I drop a pin on Google maps and send my location to my friend, W, in case something bad happens to me. She's always the person I tell when I meet up with people from Tinder.
8:00 p.m. The front door is already open. I walk up several flights until I reach S's door, which is unlocked, as promised. His apartment is clean and welcoming, decorated with healthy-looking house plants and lit with warm ambient light. I text to let him know that I've arrived and put my phone away. I wash my hands in the bathroom and look around. There's a card waiting for me with my first instructions: Get on my hands and knees and enter a room that appears to be an office and shut the door behind me.
So begins an hour of kinky rituals: removing all my clothes except my underwear, letting myself get spanked, face-fucked, paddled with a wooden spoon, and fingered. I completely submit to the experience. It feels good to have the world shrink, so much that all I can focus on is the sensation in my body.
9:00 p.m. Eventually S lets me know that it's over and I can get up. I'm dazed and can't tell how much time has passed at first. But I feel very relaxed, like I got a very aggressive massage and spent hours in a sauna. I get up and turn around and look at him, finally. He has an elegant face with fine features, vulpine. His cheekbones are prominent; I find him pleasing to look at.
He offers me some water and we lie down on the bed to rest. We formally introduce ourselves. I express my admiration for his effort and execution. He wonders, out loud, if he'll ever top this experience. Allowing myself to be vulnerable to him in a controlled scenario makes me feel very comfortable around him. The experience seems to have ushered an unusually strong sense of intimacy between me and this erstwhile stranger.
11 p.m. We sit at the kitchen table and have some wine. We end up talking for hours about our friends, our past relationships, where we've lived, where to find the best salvaged goods in Brooklyn.
1 a.m. It occurs to me that we didn't have Actual Sex, penetrative sex. When we do have sex, the next morning, it's not as baroque as our ritual the night before, but it's very enjoyable all the same.
Want to submit a sex diary? Email sexdiaries@nymag.com and tell us a little about yourself.