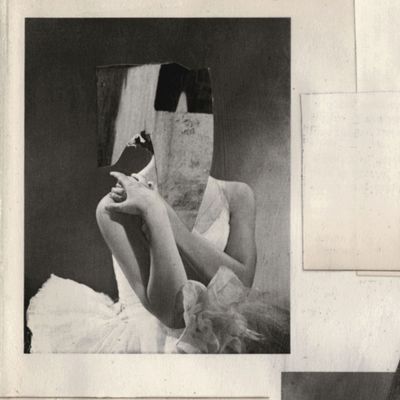 Photo-Illustration: James Gallagher
This week, a woman wondering if that man she hooked up with years ago is still interested: 29, single, Massachusetts.
DAY ONE
9:30 a.m. It's Wednesday, my day to sleep in. I was up until 2:30 working; I'm a newspaper editor, and there's been a lot of news to keep up with, of course. I've been working from home since March, which I haven't been thrilled about — it's lonely, and hard to find motivation at times — but I am so thankful to still have a job in this economy, which has hit the newspaper industry hard.
I'm relieved that today, the hardest task I have will be to proofread the pages before they go to print. Later, I'm having lunch with my best friend, then my boyfriend is coming over for dinner.
12:18 p.m. My boyfriend, Aaron, sends me a Snapchat video. He's naked, standing in front of the bathroom mirror. I bite my lip, thinking about seeing him later.
We've been together for about four months; we met online. I've been having doubts about our relationship's future potential, but we have amazing sex, and I'm going to keep enjoying that while we try to work through some communication issues.
1:30 p.m. I meet my best friend, Rhonda, for lunch at a tea and crêpes house. We sit at a table outside and are the only ones there, so it's the perfect opportunity to dish. She tells me she's concerned about her boyfriend's drinking. I tell her about arguing with Aaron recently.
4:50 p.m. Aaron comes over. We make out on the couch and cuddle in bed for an hour and a half. Later we pick up sushi and drive to one of my favorite views on top of a hill, overlooking the valley. It's romantic, and the sunset is gorgeous. We go back into town after for ice cream and people-watching.
10:30 p.m. We're both tired and horny. We get ready for bed, and since I sleep naked, it doesn't take long for him to start touching me. He's 38, almost ten years older than me, and he is one of the best lovers I've ever had. I rub myself while he fucks me missionary until I come, which only takes about ten minutes. He tells me he doesn't want to come just yet, so he flips me over and fucks me from behind, grabbing my hips while slapping my ass. It's hot.
DAY TWO
8:20 a.m. I wake up with his arms around me. He says he wants to fool around "for a minute," which does not end up being a minute.
I'm a few minutes late for my appointment to get a laser treatment for my rosacea. They ask me to wait for another appointment, in half an hour, and I'm irritated. Aaron asks if there's anything he can do to help. I say, next time, please don't instigate fooling around before we have to leave to be somewhere. He's immediately defensive and we argue in the car ride home. When I tell him I'm getting angry and need to stop talking for now, he ignores my request and continues his monologue. I'm fuming.
When he leaves to go back to his house, he tells me I'm "pushing everyone away," including him, and walks out the door. I'm hurt, but not surprised by his tendency toward dramatics.
11:30 a.m. I call my staff writer to talk about stories for next week. He's short on ideas, and I'm a little stressed, hoping we can find enough content.
3 p.m. I tell my therapist about the argument with Aaron earlier. She says it sounds like he was "being very dramatic" and highly defensive, but that she can only coach me, not him. I have a bad feeling in my gut, and part of me wonders if it's only a matter of time until we break up.
6 p.m. Mow the lawn, weed the garden.
9 p.m. I'm watching Downton Abbey reruns and eating sushi leftovers. Aaron usually responds to my texts within seconds, but now, when I ask if he wants to talk after I eat, his responses are slow and abrupt. "I'm available later," he says, but doesn't specify when, so I ask. After another 20 minutes of silence I tell him I'm getting tired and we can talk more tomorrow.
DAY THREE
8:20 a.m. Make coffee, get ready, start answering emails.
10 a.m. Alcoholics Anonymous meeting via Zoom. I've been in recovery for two years, and it's made a world of difference in my self-esteem and overall quality of life. It's nice to see familiar faces through the screen, including one friend I haven't seen in a while.
11 a.m. Editorial meeting for work, also via Zoom. Two of my male colleagues are serious mansplainers and regularly interrupt the female editors, including me, and it's hard to sit there and not roll my eyes as they talk on and on.
12:20 p.m. Aaron FaceTimed me when I was in my work meeting, so I call him back. He's sitting in his car, waiting for his teenage daughter to finish her dentist appointment. We chat for a minute, then start to talk about yesterday, but he sees her walking back to the car and has to hang up. He says he'll talk to me tonight, after she goes to bed.
3:30 p.m. Errands, including getting a car inspection, which thankfully only takes ten minutes. Aaron sends me a Snapchat video from his friends' house. He shows me temporary tattoos of sharks all over the arm of his friends' 3-year-old son. It's cute, but we're both still upset about yesterday, and our communication feels tense.
7 p.m. Dinner while watching Downton Abbey. I DoorDash over an ice-cream sundae, too. I need comfort food.
10:30 p.m. I've texted Aaron a few times, but he doesn't respond.
I start thinking about former hookups who could become options to me again if Aaron and I break up. The weekend before the shutdown in March, I'd gone dancing with friends and got phone numbers from three attractive guys. They all live near Boston, more than an hour away. But the hottest one, a guy who said he liked my eye contact on the dance floor, had offered to drive out and meet me for brunch. Maybe he'd still be up for it?
10:45 p.m. I get out my vibrator and masturbate while thinking about getting fucked by the guy I met dancing.
DAY FOUR
9:40 a.m. It's Saturday. Aaron texts and says he can chat now. I FaceTime him and say I wished he'd let me know when he was free to talk last night, like he does every Friday night when he has his daughter. He says he'd tried to start a conversation with me last night, but that it took me a while to respond (it was only half an hour — I texted back at 9:40, when I knew he'd be up still). To try to circumvent his defensiveness, I ask if he can repeat back what he heard me saying, so I know he understood. He tells me I'm being controlling.
"This isn't working out. This is an issue that's going to follow you your whole life," he says as my mouth hangs open in awe and anger. He follows with, "I'm hanging up."
He sends me multiple TL;DR messages to reiterate that he's upset, one starting with, "This relationship isn't working. It's fine if you want to blame it on me. I'm okay with that."
In the shower, I try to relax. I want to feel my feelings without denying them, but I don't want to ruminate over our conversations, either.
12 p.m. Playing lots of Lana Del Rey and scrolling through my phone. I see that Instagram has suggested I follow the account of someone I went on a few dates with three years ago but wasn't interested in. Apparently, since then, he's moved to Los Angeles, got married to a beautiful woman, and has adopted a dog. Time to put the phone down.
1:30 p.m. My mom meets me at my house, and we drive into town for lunch. I tell her about the breakup with Aaron. She just met him last weekend, when I brought him along for her birthday dinner. She liked him, but she understands when I tell her what had been happening.
8:30 p.m. I'm horny and need some stress relief. I get out my vibrator and my extra thick dildo and think about a one-night stand I had a few years ago. He's a waiter at a restaurant near me, and he would text me to hang out periodically, but I usually have a boyfriend. I haven't been available until now — but of course, there is social distancing.
DAY FIVE
10 a.m. "Good morning," Aaron texts. "Morning," I say. "When is a good time to exchange our stuff today?" he asks, coldly. He says he has a commitment from 1 to 2 but is free otherwise.
3 p.m. We meet in the parking lot of a store halfway in-between our houses. He's already there when I arrive. I get out of my car with a bag of his clothes in my hand. He walks over and hands me a bag with my bathing suits and underwear, then asks if he can hug me. I nod. He puts his arms around me and starts sobbing. Usually, he tries to hide if he's crying, but there's no hiding this. After a minute or so, he pulls away abruptly and says he "can't do this," then gets into his car and leaves.
DAY SIX
8:30 a.m. It's Monday. I'm almost thankful for the distraction, getting back into the grind of writing and editing stories. I cried some last night, especially going to bed alone again, feeling the weight of the loss.
2 p.m. Someone I matched with on OkCupid earlier this spring sends me a friend request on Facebook. I'm not ready to dive into dating again so soon, but I'm intrigued by the washboard abs he's sporting in his recent vacation pictures, so I accept.
10 p.m. I FaceTime two of my best friends and tell them about the breakup. They're supportive and affirm my feelings. I'm sad to have lost my relationship with Aaron, because I did love him. But I don't want to settle, either; I want a love that makes me feel even stronger, and valued and cared for, and I didn't feel that way with Aaron when it came down to it.
DAY SEVEN
1:15 p.m. I finish proofreading the pages for one of my newspapers. Normally, on proofing days, I'd send a Snapchat video of the proof to Aaron, and I feel a twinge of sadness.
5 p.m. I reward myself at the end of the workday by skateboarding with one of my friends. We get takeout from my favorite Mexican restaurant and eat on a bench outside. Although I'm still sad, I'm grateful to have friends who show up for me. They give me faith that no matter how crappy I feel right now, someday I'll find someone who cherishes me the same way I cherish them.
Want to submit a sex diary? Email sexdiaries@nymag.com and tell us a little about yourself.