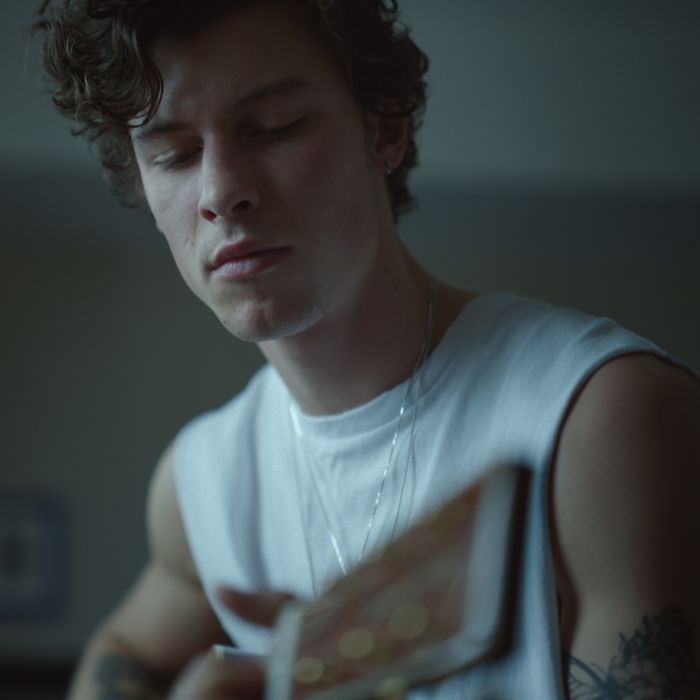 Shawn Mendes
Photo: Netflix
Much like medium-wash jeans, a hearty bowl of oatmeal, and Toyota Corollas, Shawn Mendes is absolutely fine. Fine and normal. A sturdy, dependable model of a pop star who does what he needs to do (sing catchy songs, maintain perfect soft curls that fall on his face just so). No surprises. Nothing unexpected. Just a hot, normal guy doing his thing. And now, finally, you can get a peek into what it's like being a regular, conventionally hot Canadian pop star moving through the world, because Mendes has a new documentary coming out.
"This isn't a story about a famous musician; this is a story about a guy growing up," Mendes says in the trailer for Shawn Mendes: In Wonder, which was released on Tuesday.
In the trailer, Mendes writes affirmations for himself ("I sing with no tension"; "My voice is strong and healthy") and performs in front of packed stadiums in little sleeveless vests. He hugs his girlfriend and jams on his acoustic guitar and runs — constantly and at top speed — to a cresting, triumphal score. There's at least five miles a day of triumphal running, I'd say. And through all of this, Mendes wonders, "If I tell the world I'm just a normal human … will they stop coming to my shows? Maybe I should pretend I'm Superman for a little bit longer."
Really, the whole documentary, like Mendes, promises to be extremely normal and fine. Every other person on the planet has a Netflix documentary about them, though, so why shouldn't he?