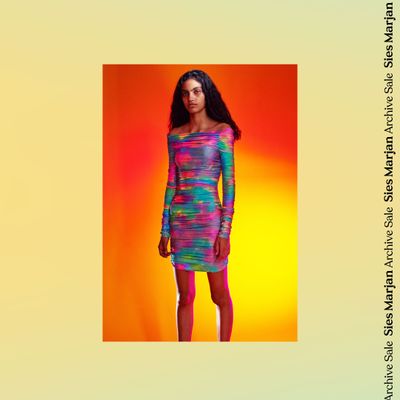 Photo: Courtesy of Sies Marjan
Sies Marjan, one of fashion's most exuberant brands, was an unexpected casualty of the pandemic. But it's not going out without a bang. After shutting down in June, the American luxury brand is releasing its full archival collection for sale for the first and last time ever, with proceeds going to Scope of Work.
While it's exciting that Sies Marjan is dropping such a major sale, the brand is more excited to be supporting Scope of Work — a talent-development agency, founded in 2016 by two women artists and educators of color, for young BIPOC creatives working to fundamentally shift and establish equity in creative industries. The goal is ultimately to cultivate the next generation of BIPOC creative leaders by establishing pathways to paid opportunities for underrepresented young people.
"Young Black Indigenous and people of color creatives in NYC, especially those growing up through the NYC public-school system, face insurmountable barriers to creative careers," Geneva White, co-founder of Scope of Work, told the Cut. "Financial support from creative and fashion industry partners like [this] allows us to continue to make a meaningful investment in young creatives of color and realize our vision for a more inclusive creative sector." In 2019, the agency placed 38 members in positions that generated more than $200,000 of income for young BIPOC creatives.
Of course, there's a ton of joyful gaudiness, quiet refinement, and liquid-y dresses and separates in a rainbow of hues. See some our favorites below, and shop the entire archive sale here.