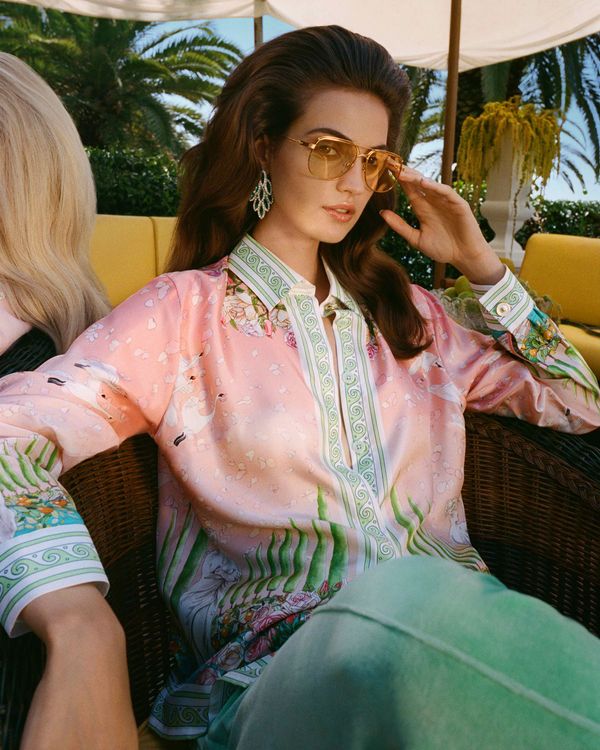 There's something about a slinky Greco-Roman-printed shirt that evokes a lavish life in the Miami sunshine, even if fall is in full swing. It's an aesthetic that made Gianni Versace an international sensation — his bright colors, bold prints, and sexy silhouettes felt especially punchy compared with the minimalism that dominated the '90s. Now, LVMH Prize finalist and French-Moroccan designer Charaf Tajer of Casablanca has taken up his mantle, combining luxurious classicism with ease and sexiness.
Casablanca's inaugural women's collection launched just in time for fall but proves that fall dressing doesn't have to be drab. If you need proof, just look at this shirt: a silky pink number printed with a baroque villa surrounded by lush greenery, a fancy white Afghan hound, and a cheeky slogan ("Maison de repos," which is French for "retirement home"). For this collection, Tajer took inspiration from the nature and architecture of Italy's Lake Garda, which is famous for its gardens, snowcapped mountains, and Roman architecture.
This shirt would pair nicely with a crisp Aperol spritz on a country-club terrace at sunset. But lounging around at home in the shirt and imagining you're someplace warm and luxurious will work just fine, too. Shop the shirt below and see the entire collection here.