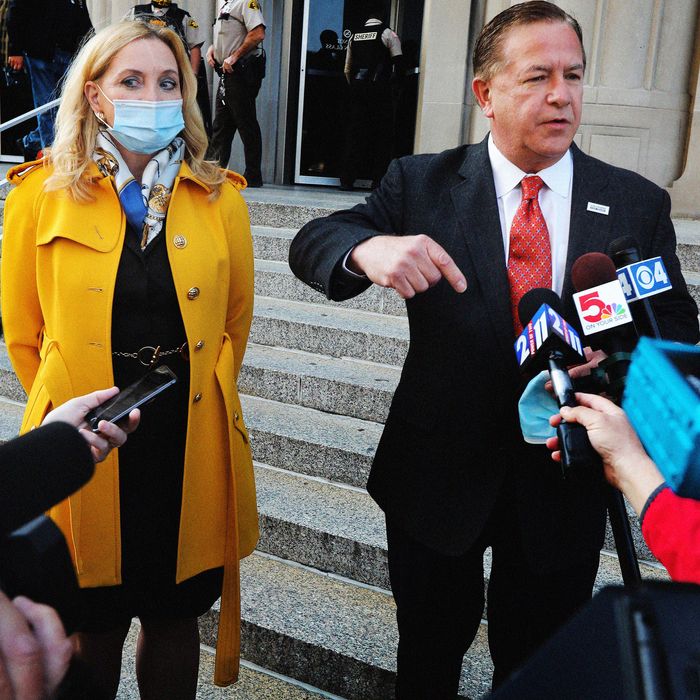 Photo: St. Louis Post-Dispatch/TNS via Getty Images
The saga of the so-called "St. Louis gun couple," a husband and wife who have lingered in the national spotlight since waving weapons at Black Lives Matter protesters passing by their gated community, continues.
On Tuesday, the Associated Press reported that Mark and Patricia McCloskey, who were charged in July with a felony count apiece for unlawful use of a weapon, have been indicted by a grand jury. The grand jury reportedly charged the McCloskeys with tampering with evidence, in addition to the unlawful use of weapons charges.
The couple's lawyer, Joel Schwartz, told NPR that prosecutors in the case had yet to notify him of the indictment and that legal documents had not been filed against his clients. "I can only assume they're alleging that they tampered with the firearm," he said of the new charges. On Tuesday, Mark McCloskey characterized the indictment as a chance for the "leftist, Democrat" government of St. Louis to "persecute" him and his wife
The charges stem from an incident on June 28, when a mostly Black group of BLM demonstrators marched through the wealthy community where the McCloskeys, who are white, live. The McCloskeys' response to this was to stand outside their enormous "palazzo"-style home brandishing firearms: an AR-15 for Mark, and a semi-automatic handgun for Patricia. The McCloskeys' threatening display was caught on video and went viral. In August, the Republican National Committee gave them another giant platform in the form of an invitation to speak at the Republican National Convention Zoom abomination. The couple, of course, accepted.
Missouri's Republican governor Mike Parson has said he will pardon the couple should they be convicted.