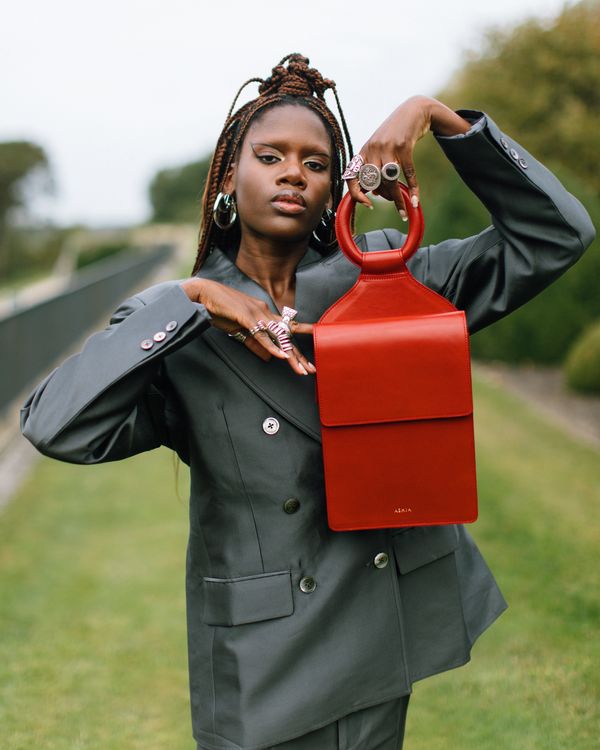 Once considered a relic of the '90s, fanny packs have made a major comeback in recent years, especially worn slung across the body. But rarely have they been brought back in such a luxurious and thoughtful way as the latest collaboration between Telsha Anderson, owner of multi-brand Meatpacking District store t.a. New York, and New York–based label Ashya.
The fashion world has become so saturated with belt bags that they've sort of become passé. So Anderson and Ashya reimagined a more sophisticated version of the '90s sling bag — a cross-body purse-backpack hybrid — that can be worn multiple ways. You can sling it across your body, hoist it over your shoulder, or convert it into a handheld bag and carry it by the circular top handle.
The bag is named the "Shema Slingback" after Anderson's mother, Tasheema. The designers intend for it to honor Black women everywhere. "For us, [it] represents heritage, Black expression, and dedication to self, and is a reflection of the level of elegance, grace, and thoughtfulness that is imbued through this collaboration."
The bag is made in New York City with vegetable-tanned cow leather, developed with a sustainable tanning method using organic materials and natural tannins. Not only does that make it durable, but it will age beautifully. If you love it, act fast: Only ten bags from the collection are available exclusively at t.a. New York for $1,295. Shop it below.