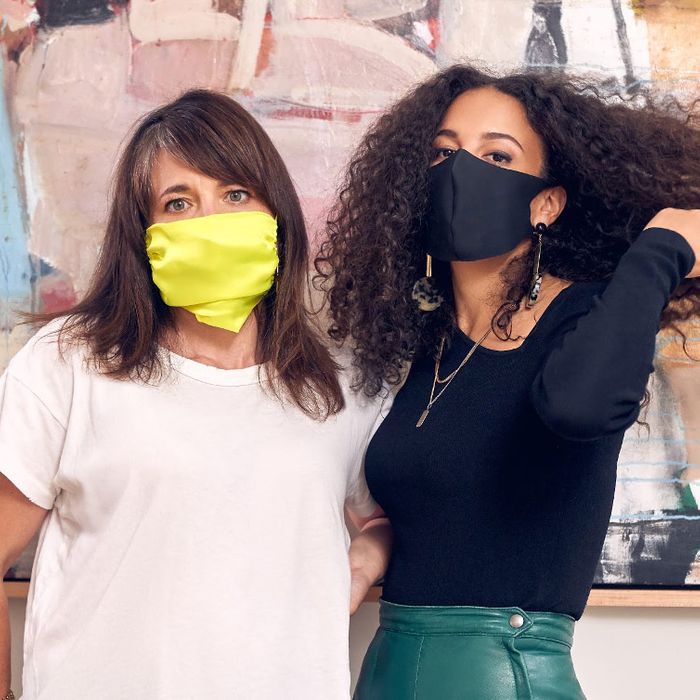 Pseudonymous sisters Muri and Evie Lelu.
Photo: Courtesy of Muri Lelu
CBD has popped up in everything from muscle relief creams to insomnia drops to skin-care serums, but an enigmatic new brand called Muri Lelu is making it feel ultra luxurious. Launched in June, the company was founded by three first-generation American women with French, Egyptian, and Belizean heritage who operate under pseudonyms to maintain an air of mystery.
"Muri Lelu represents an intentional celebration and exploration of the 'hidden self' that lies within each woman," the brand says. Unlike many other CBD companies, they embrace the full power of the entire cannabis plant from stalk to flower. And they're committed to promoting restorative justice for those affected by cannabis prohibition, partnering with a nonprofit called The Last Prisoner Project which is focused on freeing those who have been incarcerated on cannabis charges.
The brand's first product, the Mauvaise Herbe Indica Oil, packs tons of antioxidant, anti-inflammatory and anti-aging benefits. Named after the French word for weed, it actually smells like fresh cannabis flower. We spoke with two of the founders about thongs, turning right on red in New York City, and smoking a joint while the kids are away.
What about your first product is especially meaningful to you?
The lush complexity of cannabis infused into a simple bottle. We couldn't find a luxury clean skin-care product that captured the magical experience of cannabis. So we made one.
How do you thank someone for a gift?
Muri Lelu: I'm a fan of human connection. So it used to be a smile, a hug, a kiss, a hand on the shoulder. These days, it's a phone call.
What would you never wear?
ML: A thong. For so so many reasons.
Evie Lelu: I am hugely fascinated by the burgeoning cottagecore aesthetic, but I have to (personally) pass on a prairie dress.
What's your dream vacation?
ML: I've been wanting to visit a dark sky sanctuary. Living in NYC, it's easy to miss the stars.
EL: Learning to surf in Senegal.
What's a good book on your coffee table right now?
ML: The Taschen book of Brazilian abstract painter Beatriz Milhazes. She proves the theorem that it's impossible for colors to clash.
EL: Vikki Tobak's Contact High — a birthday gift from my brother capturing 40+ years of hip-hop culture through photographers' contact sheets.
Last show you binge-watched?
ML: Cobra Kai. What can I say? I'm a child of the '80s.
EL: I, like almost everyone else during quarantine, was unapologetically addicted to Normal People.
What's your guilty pleasure?
ML: Turning right on red in NYC.
EL: An unwavering obsession with Sade.
Secret to hosting a good party?
ML: The right playlist.
What is a trend that you like right now?
ML: Legalization of cannabis.
One you don't understand?
ML: I don't judge. I have so much respect for commitment to a look — whatever that may be.
Favorite restaurant in New York?
EL: Barrio Chino in the Lower East Side. Their Grapefruit Habanero Margarita never fails to be the actual hottest drink in the city.
What's the one thing you could eat everyday for the rest of your life?
ML: A square of 99 percent dark chocolate, especially Michel Cluizel Noir Infini. It's not for the faint of heart.
Shoes you wear most often?
ML: Just realized I have four pairs of Dries Van Noten crocodile embossed pumps. How did that happen? But lately my Feit shearling-lined motorcycle boots. Cozy and indestructible.
EL: It's a toss-up between various colorways of Old Skool Vans and my pair of beige patent Acne Ugo boots (basically a pair of Timbs with a fashionable platform attached).
What are five inanimate objects that bring you joy?
"This magazine was originally published from 1946–1977 and relaunched recently. It's loosely focused on travel, but also art, design and culture and with top quality writing. One of my favorite pastimes is to read it and plan trips that I'll probably never take." —ML
"I've always admired Chinoiserie wallpaper but couldn't afford it for my house. So I splurged on this robe instead. I wear it exclusively when I'm home alone (my kids have sticky fingers, literally), binge-watching whatever in bed, smoking a joint. It brings instant leisure and glamour to the situation." —ML
"I always wanted to be a Spice Girl … maybe 2020 is the year?" —EL
"Anything that Wales Bonner designs brings me joy. It's really important to me to not only support Black designers, but also engage with designers that are reflecting the diaspora and our history. Wales Bonner critically engages with so many different touch points of Black history, culture, creative works and the experience in her designs — her clothing is inherently infused with pride and meaning." —EL
"The 'Bushwick Birkin' that seems to be everywhere these days. I love the mini size, as it fits everything I truly could need. Sometimes I even stuff the book I'm reading in there!" —EL