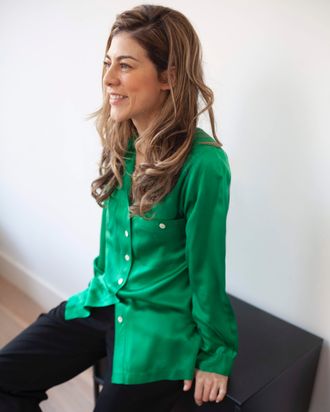 Photo: Courtesy of Gauge81
Founded by Colombian designer Monika Silva just last year, the Amsterdam-based brand Gauge81 specializes in the kind of clothes that might make you miss getting all dressed up to go someplace fun. After all, one of Silva's inspirations is Carrie Bradshaw, patron saint of going out in New York.
Gauge81 operates in the realm of sexy '90s minimalism with some fun, surprising details — so make that very early Carrie Bradshaw. Think structured blazers with layered lapels and silky blouses with asymmetric buttons. "I have a passion for men's shirts and blazers — styling, for example, a miniskirt with an oversized poplin shirt, or a blazer as a minidress with boots," Silva told the Cut. "Gauge81 takes those cues and juxtaposes them with bold and risqué elements and offers a more undisputedly feminine vibe."
We spoke with Silva about Crocs, living in Amsterdam, and glasses that make wine so much better.
What's one piece you've designed that's especially meaningful to you?
Our Argos poplin shirt was inspired by a shirt my late mother used to wear in the '90s, and its tuxedo collar has become one of our signature design elements in our shirts.
How do you thank someone for a gift?
A call, a handwritten note, or a thoughtful gesture, depending on the situation.
What would you never wear? 
Crocs.
What's your dream vacation? 
Anywhere with a beach, my family, and no Wi-Fi.
What's a good book on your coffee table right now?
Prada Catwalk: The Complete Collections.
Last show you binge-watched? 
The Last Dance. Michael Jordan is an inspiring study in passion, dedication, and perseverance.
What's your guilty pleasure?
Poker night.
Secret to hosting a good party? 
Making sure you don't run out of anything.
What is a trend that you like right now?
Shoulder pads.
One you don't understand? 
Wearing short socks with stilettos, sandals, or ballerinas.
Favorite restaurant in New York?
I'm craving a burger right now, so J.G. Melon comes to mind.
What's the one thing you could eat everyday for the rest of your life?Plain white rice.
Shoes you wear most often?
I'm based in Amsterdam, and I bike to the office so more often than not, flats. But my true love lies in high-heeled, tall boots.
What are five inanimate objects that bring you joy?
"I have a mild (not so mild) pillow obsession."
"I'm a wine aficionado. Their ultrathin rim just makes a burgundy so much better."
"It's like a spray of happy in my morning routine."
"It consolidated my gym bag, computer case, and handbag into one and somehow makes big look stylish."
"Not because I'm biased, but really our Savanna spandex pants are exceptionally flattering, yet particularly comfortable. I currently live in them."