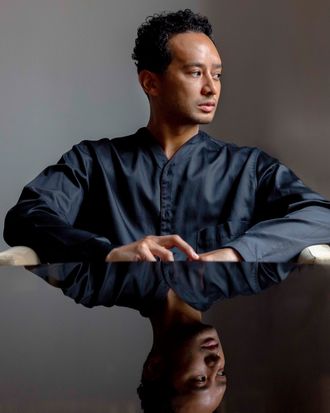 Photo: Elliott Jerome Brown Jr.
Seven years ago, Tariq Dixon left corporate America after realizing that he felt much calmer and more grounded when he was cultivating his home space. So he made it his life's work, co-founding a design studio called Trnk.
Dixon curates a selection of home furnishings and runs Trnk's own namesake product line. As a queer Black and Korean American, he understands the challenges facing marginalized communities and uses his business as a way to empower and educate others, curating exhibitions that also raise money for different organizations. "If I'm gonna bust my ass this hard, I wanted it to be on my own terms and with a greater reward, which is often not monetary when running a small business," Dixon told the Cut.
His exhibitions are personal. This year for Pride, Dixon debuted a photography show called Mien featuring queer artists of color to explore intersecting identities and raise money for the Ali Forney Center. And today, he debuted his third exhibition, Provenanced, which celebrates the depth and diversity of contributions by African and Indigenous artists, which contemporary designs often take inspiration from.
We spoke with Dixon about African and Indigenous influences in art, Telfar, and his favorite Haitian spot in Bed-Stuy.
What's one piece you've curated in Provenanced that's especially meaningful to you?
There's a vintage Grebo mask that belonged to the Kru culture of the present-day Ivory Coast, sourced by our friends at Form Atelier. It's composed of very simple geometric shapes, done to such a beautifully striking effect. This mask is perfectly emblematic of the exhibition's themes, namely African and Indigenous influences over Western design vis-à-vis 20th-century modernist artists like Picasso, Brancusi, Modigliani, etc. Our appreciation for minimalist forms and art's evolution, from naturalism to abstraction, is thanks to these brilliant but largely unrecognized artists from non-Western cultures.
How do you thank someone for a gift?
A proper thank-you note is obviously a must. But I like to reciprocate unexpectedly. I think the most thoughtful gifts are ones that aren't tied to a particular occasion. Also, it's important to pay the generosity forward, and it doesn't necessarily need to be directly to the person that gave you the gift. Spread the good karma around, and go make someone else's day.
What would you never wear?
Logos. Except for maybe Telfar …
What's your dream vacation?
Whenever 'rona decides to release us from her shackles, Dakar is atop my list.
What's a good book on your coffee table right now?
I've been deep into reading for Provenanced over the past couple of months. One of my favorite books from this list is called Metropolitan Fetish: African Sculptures and the Imperial French Invention of Primitive Art by professor and art historian John Warne Monroe. It pretty much defends the assertions we're making with the exhibition by tracing the history and colonial legacy of African art within turn-of-the-century French culture. It's incredibly informative, but kinda reads a little like a salacious exposé. One of the few history books I've read that I'd consider a page-turner.
Last show you binge-watched?
I May Destroy You. Or maybe it was P-Valley? Either way, both iconic.
What's your guilty pleasure?
Wasting hours at a time on Instagram comedians.
Secret to hosting a good party?
Inviting people who would otherwise never have met each other. Also, copious amounts of some sort of nondescript punch.
What is a trend that you like right now?
Thick eyebrows. I wish I had some.
One you don't understand?
Trying to look like Kylie Jenner trying to look like a Black woman.
Favorite restaurant in New York?
Grandchamps. It's a Haitian spot in Bed-Stuy.
What's the one thing you could eat every day for the rest of your life?
Ramen.
Shoes you wear most often?
Nike Air Max 97.
What are five inanimate objects that bring you joy?
"This one doesn't require much explanation."
"I bought this little Junya Watanabe Docker Hat that I wear nearly every day. I look cute in it. Also, it was the first thing I bought at a physical retail store since the start of the pandemic."
"I love this lamp designed by Flos. It has this cute little mushroom shape, but it's also rechargeable, so you can carry it around with you. It has a four-step dimmer so she can set that type of mood, if you don't have the time to be fussing around with candles."
"I don't wear jewelry, but if I did, I'd be all over this line by Senegalese brand Tongoro. Another example of the strength of simple lines."
"I designed this using raw travertine and brass. I started this design and sourcing process nearly two years ago, so it was exciting to see it come to life."