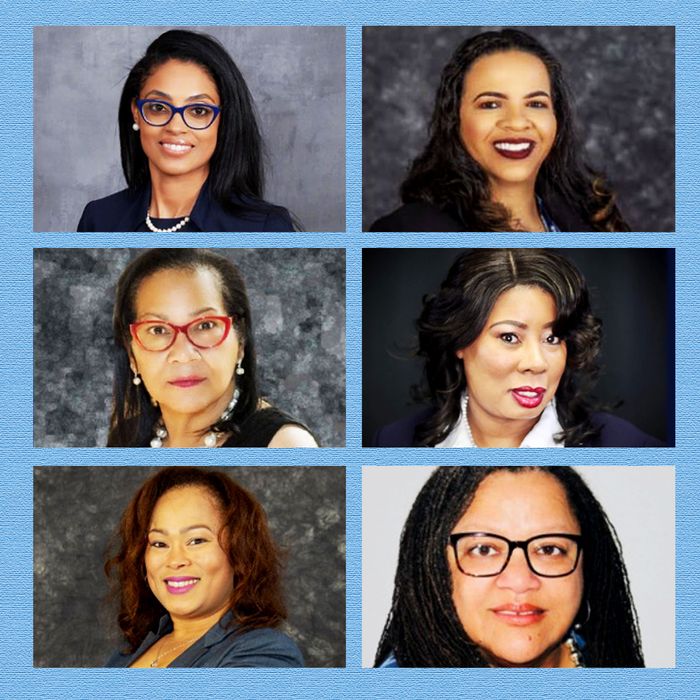 Left to right, top to bottom: Lakesha Smith, Valerie Baston, Maryellen Hicks, Alisha Darden, Karen Williams, and Delonia Watson.
Photo: Courtesy of Sisters in Law
In 2018, Senator Ted Cruz fondly called Tarrant County, Texas, "the reddest county in the reddest state." A few weeks later, he lost it to his opponent, Beto O'Rourke, by 4,300 votes.
Two years later, as Texas Democrats hope to finally flip the state blue, a group of women who call themselves the Sisters in Law are trying to prove Cruz wrong, again. They are a slate of six Black, female attorneys running for judicial seats, and hoping to shake up the county's staggeringly homogenous judicial makeup: All of the Tarrant County elected judicial positions, dozens of seats, are currently filled by Republicans. Most of them are white. And a Black woman has never been elected to a criminal district court or civil district court. Though judicial races get far less attention and funding than legislative elections, they are crucially important; judges rule on far-reaching policy issues, and the GOP has taken advantage of low voter engagement to install right-wing jurists up and down the country. In Texas, courts have recently ruled in favor of restricting absentee ballots and the number of ballot drop off boxes just in time for elections.
The Tarrant County Democratic Sisters in Law are:
Karen Williams, a lawyer with over 14 years of experience practicing civil and criminal law who has served on the board of the NAACP and the Salvation Army:  Criminal District Court 2
Lakesha Smith, a former public defender and assistant district attorney: 213th District Court
Delonia Watson, the former president of the Black Women Lawyers of Tarrant County, who's been practicing law in Texas since 1984: Second Court of Appeals, Place 6
Alisha Darden, a solo practitioner who worked from 2006 to 2011 as an administrative law judge with the Texas Department of Insurance: 153rd District Court
Valerie Baston, a former prosecutor with her own practice who received a legal excellence award in 2011 from the Black Women Lawyers of Tarrant County: 342nd District Court
Maryellen Hicks, the first Black woman to be elected to district court as a family court judge and a former justice on the 2nd Court of Appeals in Fort Worth: 348th District Court
"All of us felt the need to make change," says Hicks, who happens to be the only Black woman to have ever won a judicial race in Tarrant County. Hicks was elected in 1981 to a family court, then appointed to the second court of appeals in 1994, the first and the last Black female judge to serve at the district level. Hicks, Smith, Watson, and Darden joined for a group phone call with the Cut this week.
The Sisters are taking on a dubious judicial appointment system in Texas, one you might even call undemocratic. Texas holds partisan elections for its judges, from civil to criminal to the highest court of appeals, but the governor can appoint a judge if someone steps down before they finish serving their term of office. Texas's Greg Abbott has been extremely active in doing so — he's installed several judges who are members of the right-wing Federalist Society, and, even more troubling, judges who have been expressly rejected by voters. Four of Abbott's last seven judicial appointments to fill key court vacancies were former Republican judges who lost their 2018 races, per the AP.
"I am very tired of black robes with white faces," Hicks says. "If you only have one point of view on your bench, what does that say for the average citizen who may not have a lawyer, or who's not represented by these big, white-collar firms that don't have Black or brown lawyers?" From their time as attorneys, the Sisters know what it's like to work with a largely white judiciary; they share common stories of being asked to show ID in the courthouse, or of being mistaken for clerks. Smith says she's been told by prospective clients that they don't want a Black lawyer because they believe that white lawyers have a better chance in front of Tarrant county judges. "I'm sorry, ma'am, only attorneys can come back here," a bailiff once told her.
Running together in a slate has enabled the women to not only talk about these problems as systemic issues, but to lean on each other for support in a hostile environment. "When I was appointed, I was by myself. I'm loving that I'm with these incredible young women now," Hicks says. The Sisters have shared much-needed fundraising efforts and resources. "I don't think I would have been able to run by myself," says Darden. "I would've probably fell out a long time ago, but with this group, you can't give up."
Early voting in Texas still has a week to go, and the Sisters in Law will be raising money down to the wire. You can donate to each candidate at their websites above.