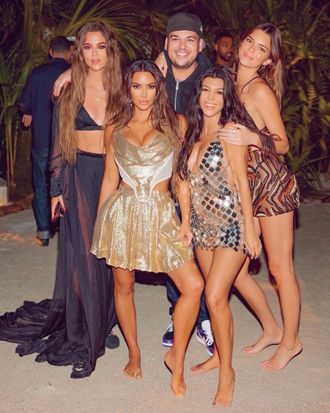 Kim Kardashian, humbly.
Photo: @KimKardashian/Twitter
This summer, reality-TV mogul and (near) billionaire Kim Kardashian West was criticized for posting about the extravagant, cowboy-themed birthday party she threw for her 7-year-old daughter, North West, at the family's multimillion-dollar ranch in Wyoming. (She bought the child a Friesian horse, breathlessly noting on Twitter that it was one of 14 gorgeous Friesians in her family's possession.) The post seemed a little tone-deaf given that the country was, at the time, crumbling under the terrible weight of multiple intersecting medical, social, and political crises. Now, it's five months later, and, well, the country is still crumbling under the terrible weight of multiple intersecting medical, social, and political crises, and Kim has clearly learned her lesson because — oh no, wait. Hold on. Never mind. It appears she's been posting about the lavish 40th birthday she threw for herself on a private island after flying out her closest friends and family.
In a series of tweets on Tuesday, Kim wrote that she is feeling "so humbled and blessed" for being able to celebrate her birthday party "with some of the people who have helped shaped me into the woman I am today." (These included, among others, her family, "FoodGod" Jonathan Cheban, and Khloe Kardashian's on-again, off-again, and possibly on-again boyfriend Tristan Thompson.)
"Before COVID, I don't think any of us truly appreciated what a simple luxury it was to be able to travel and be together with family and friends in a safe environment," Kim wrote, adding that she and her friends had "danced, rode bikes, swam near whales, kayaked, watched a movie on the beach and so much more."
She concluded: "I realize that for most people, this is something that is so far out of reach right now, so in moments like these, I am humbly reminded of how privileged my life is."
Every post in the thread seemed more tone-deaf than the last, but one in particular has already exploded into a meme on Twitter. "After 2 weeks of multiple health screens and asking everyone to quarantine, I surprised my closest inner circle with a trip to a private island where we could pretend things were normal just for a brief moment in time," Kim wrote.
Soon, users were calling back to other "inner circles" on other "private islands." Like Jurassic Park:
Fyre Festival:
Midsommar:
The tight inner circle of Tom Hanks and Wilson the Volleyball from Cast Away:
The gorgeous getaway that is Bikini Bottom:
And, of course, friends Chris Moltisanti and Paulie Gualtieri enjoying the "simple luxury" of traveling together in the "Pine Barrens" episode of The Sopranos:
There is no word as to what safety precautions were taken to protect the staff on the island.