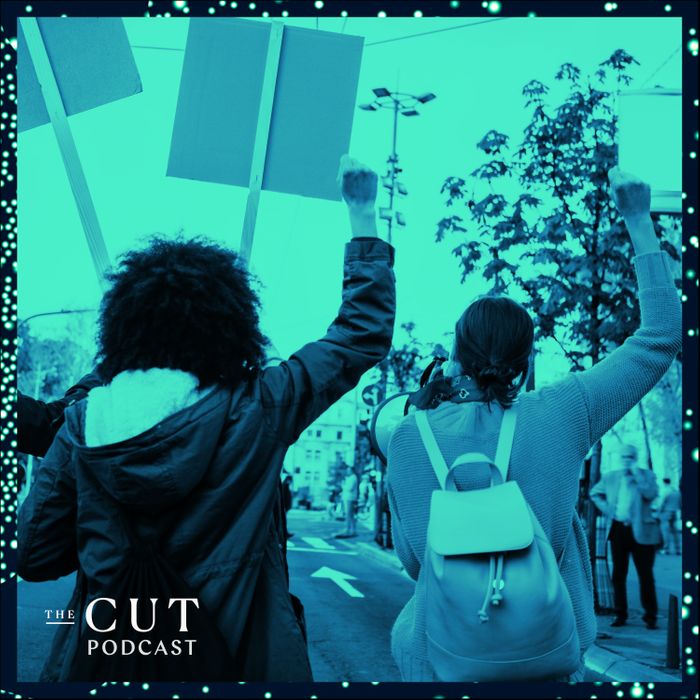 Photo-Illustration: by The Cut; Photos: Getty Images
In this week's episode of The Cut, we explore the ins and outs of protesting. Is a plan necessary? Is a leader necessary? What is "Protestchella"? Are Gen Z-ers pulling all the weight? Avery Trufelman chats with journalist Michelle Lhooq, protester Stickers, and detective Felicia Richards to figure out if there's a "right way" to protest. In addition, lead producer B.A. Parker talks about her own experiences protesting over the past 20 years and speaks with some members of Gen Z about the pressures they're facing to save the world.
AVERY: It was the first day of June in Los Angeles. 




MICHELLE: Right as L.A. was coming out of lockdown, before they went back into lockdown, there was this brief moment where people were coming out of their houses after a few months of sitting at home.  




AVERY: And as soon as journalist Michelle Lhooq stepped outside her house, she walked three blocks and suddenly she was swarmed, surrounded from all sides by hundreds of people. And this is L.A., so this meant that (1) this was an unusual amount of pedestrians, and (2) everyone was really, really well dressed. 




MICHELLE: And I was like, Wait, this literally feels like a music festival. Like this kind of energy with all of these looks, like there were so many amazing looks coming out, and the signs were super-funny. 




AVERY: But it wasn't a festival. It was a protest. 




MICHELLE: There was a huge protest with like 100,000 people down my street on Hollywood Boulevard, which had been organized by Black Lives Matter but also the rapper YG. And he was filming his music video "Fuck Donald Trump" at the protest. And so I basically stumbled across that protest because I was leaving my house and all of a sudden there were waves and waves of people carrying signs. And that protest received huge backlash on social media because people were calling it, you know, Protestchella. 




AVERY: Michelle used to report on raves and nightlife. But in 2020 … that beat dovetailed with protest movements. 




MICHELLE: There is this sort of intersection between rave culture and political-protest culture. And I believe in the political power, the subversive power of dance. And of marginalized bodies coming together in resistance, in unity, finding connection with each other. 




AVERY: But Protestchella was the first time that Michelle felt confused with the tension between pleasure and protest. She felt like she was at a festival, but she didn't feel it would be appropriate to say that. The politics of partying were kind of fraught here. What counts as a protest? And who gets to decide? Since that day in June, Michelle has been traveling across the country, going to protests in different cities to try to find answers. 
Here, Trufelman talks with Stickers, a young woman who was arrested at a protest in New York by an unidentified police officer, and the president of the NYPD Guardians Association, detective Felicia Richards.
AVERY: The logic that the police gave for this encounter was that in late June, during an occupation of City Hall, Stickers had spray-painted a bunch of surveillance cameras. 




FELICIA: This woman disabled that camera by spraying spray paint on it. So that's a type of reckless behavior and damage to property, to the police property.




STICKERS: Are we really going to use that force for, you know, like some fucking teenager with paint, like, come on? Are the poor cops hurt that I covered their "camwas," like, come on?




FELCIA: Okay, first of all, she's spraying all of the cameras so that, for what purpose? 




STICKERS: Everybody was going out on the street to protest, and I just wanted to make sure, you know, they don't use mass surveillance against people.
Later in the episode, B.A. Parker talks about her own experiences and the notion that Gen Z will be our savior.
B.A. PARKER: I've been protesting for almost 20 years. When I was a teenager, it was to end the wars in Iraq and Afghanistan and to impeach Bush and to reduce prescription-drug prices. Once, I got detention because I showed up to school in a handmade T-shirt that said, "I'm Afraid of Americans." In college, I went to rallies and marches and protests for sexual-assault survivors, the Jena Six, more Impeach Bush rallies, and the stopping of local gentrification efforts.  




In my 20s, I marched through Union Square with a broken ankle in a boot to demand justice for Trayvon Martin, only to fall in the street and have a white protester yelling at me to get out of the way. Now, in my 30s, I didn't protest this past summer or last week. It wasn't for any ideological reasons. I didn't want to chance getting sick when I wanted to visit my folks. I also felt guilty, like I'm not doing enough. And honestly, years of waking up every morning and having to demand that my humanity be affirmed takes its toll. It almost feels like we're all just chopping up kindling with a plastic spork. Yet there's this glowing refrain that keeps popping up, telling us not to worry because "Gen Z will save us."
To hear more about protesting without rules and Gen-Z involvement, listen below and subscribe for free on Apple Podcasts or wherever you listen to podcasts.