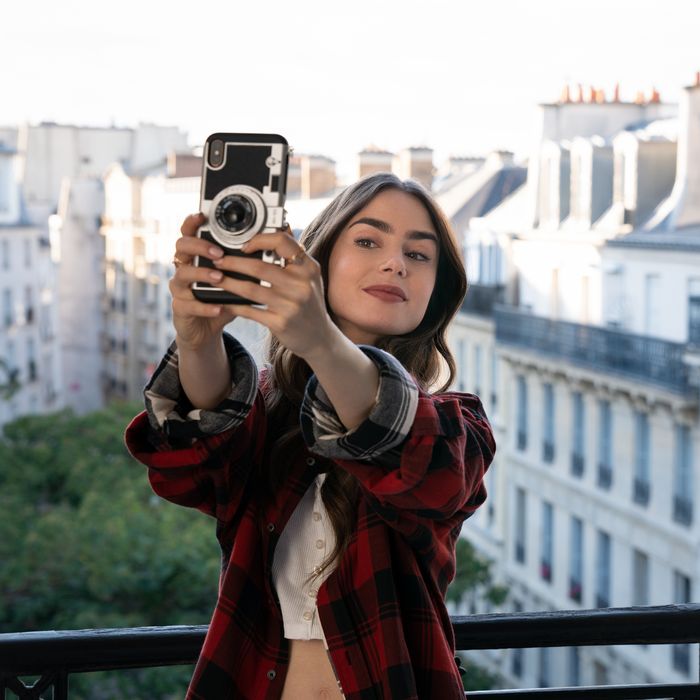 Photo: STEPHANIE BRANCHU/NETFLIX
Kerensa Cadenas, senior editor: Who here has been watching Emily in Paris?
Allison P. Davis, features writer: That damn show. That damn show! Did I watch it in a day? Yes. But I was fueled by hate. How'd they make MDMA and hot sex look so lame? I never wanna do drugs or have sex again.
Kathleen Hou, beauty director: The clothes were … so bad. But maybe that was the point?
Sangeeta Singh-Kurtz, senior writer: I love the clothes. I love that they wear heels everywhere, including on cobblestones. I love her eyelet blouse, and that she wears it for jogging. I love that she wore an Eiffel Tower blouse on her first day of work. So ugly, so earnest! Personally, I am charmed by this dumbass show.
Daise Bedolla, social-media editor: Okay, but why was every single guy charmed by Emily? All of them!
KH: Why is anyone charmed by Emily? I was like, Wow, Americans are annoying.
KC: Emily needed to be gayer IMO.
APD: Agreed. They really teed it up! Like Chekhov's hookup. Come on, Darren.
KC: Darren is a baby boomer. Maybe that's why.
APD: Oh, yes, this was doused in eau de okboomer.
Melissa Dahl, executive editor: I love her stupid Instagram posts. I now refuse to put any thought into any of my own Instagram posts ever again.
APD: She lowered the bar. Thank you, Emily.
SSK: The satisfied smirk she gives after posting a pic with a really bad caption.
DB: Yes, it reminds me so much of myself in 2014, reblogging photos of the Eiffel Tower on my semi-famous Tumblr and calling myself a Francophile.
Bridget Read, staff writer: She hurt a pizzeria's feelings. That's the one thing I know about Emily in Paris.
Callie Beusman, news editor: The only thing I know about Emily in Paris is the screenshot I saw on Twitter, of her in Paris, saying, "It looks just like Ratatouille."
I refuse to learn anything more. You can't improve upon that.