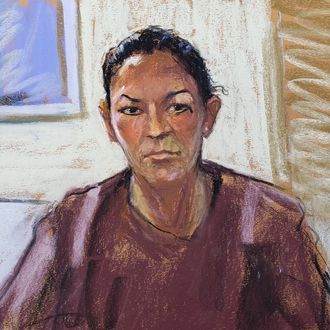 Ghislaine Maxwell, as seen in a 2020 courtroom sketch.
Photo: JANE ROSENBERG/REUTERS
As longtime Jeffrey Epstein associate and alleged co-conspirator Ghislaine Maxwell awaits trial on federal charges of enticement, conspiracy, and perjury at Brooklyn's Metropolitan Detention Center, her most public presence has been in a contentious fight to prevent the unsealing of materials related to a since-settled 2015 defamation suit by Epstein accuser Virginia Giuffre.
This week, the Second Circuit Court of Appeals agreed to release the documents, siding with a lower district court that there was no compelling reason for the materials to remain hidden. On Thursday morning, a 465-page deposition given by Maxwell in April 2016, as well as a handful of legal filings around it, came into public view. (It is on the court's public docket, and many outlets have posted it.)
Notable for being the basis of one of the government's two claims of perjury, the deposition had been glimpsed publicly only in a tiny snippet excerpted in the DOJ's July indictment. Otherwise, it is notable more for what it conceals than what it reveals. It is hundreds of pages of Maxwell's evasions, non-recollections, and denials. She denies having helped Epstein recruit young girls for sex and ducks dozens of other questions.
"I can't think of anything I've done that is illegal," she testified, and pressed on specific allegations by Giuffre, fumes and rages. "I totally resent and find it disgusting that you use the word 'recruit,'" she testified in her deposition. "I already told you I don't know what you are saying about that and your implication is repulsive … I don't recruit anybody." Furthermore, she said, "I have never seen anybody have sexual intercourse with Jeffrey Epstein, ever." Her attorney advised her not to answer questions regarding her own consensual sex life (including whether she had ever had sex with a woman), but she testified that she "never had nonconsensual sex with anybody ever, at any time, at any place, at any time, with anybody."
As she describes, Maxwell met Epstein in 1991, began working for him the following year, had what is understood to be a romantic relationship with him briefly ("There were times when I would have liked to think of myself as his girlfriend," was her own estimation in the deposition), and worked for him for years after, overseeing staffing at his six properties. Since Epstein's arrest in July 2019, Maxwell has been publicly accused of recruiting young women for Epstein and participating in his abuse of them, charges she has continued to steadfastly deny.
But after Epstein's suicide in jail last August, prosecutors shifted their attention to Maxwell. She was arrested in July at a New Hampshire mansion, "Tuckedaway," where she had been living quietly in near-seclusion, attended by her own security guards.
During the hours-long interview, Maxwell is variously frosty, haughty, furious, and even in some cases, funny. The civil suit in question was filed by Giuffre after Maxwell made statements to the press calling her a liar, and the deposition is full of similar allegations from Maxwell. Asked to outline what she claims are lies by Giuffre, Maxwell seized on her contention that Maxwell had taken her shopping, and pointed to a photo of her: "I would never," she sputtered. "The outfit doesn't work at all." Over and over again, Maxwell is asked about specifics of Giuffre's allegations of abuse, criminal investigations into Epstein's conduct with underage girls, the atmosphere at Epstein's homes in the U.S. and her own in London, and over and over again, Maxwell dodges. Questioned about sex toys (a former staffer of Epstein's has alleged that there was a basket full of sex toys in Epstein's Palm Beach property), Maxwell requires a definition of sex toys. ("I don't recollect anything that would formally be a dildo," is her eventual reply.) Asked about a puppet resembling a redacted person (Giuffre has alleged that Prince Andrew, the English royal who stepped down from royal duties following the scandal of his association with Epstein, groped her with a doll in his own likeness), Maxwell philosophizes on what is or isn't a puppet. (She ends up describing it as a "caricature," then acknowledges having seen it.)
About Epstein, Maxwell is a wall. She testified that she did not know how he made his money, and that their contact by the time of her deposition was limited and sporadic. Asked whether she believed that Epstein sexually abused minors, after his imprisonment for solicitation in 2008, Maxwell replied, "I can only tell you what he went to jail for … I cannot testify to what I believe." Pressed again, she says, "I can only testify to what I know. I know Virginia is a liar and I know what she testified is a lie."
Maxwell acknowledges being paid by Epstein (though doesn't say precisely how much), having received loans from Epstein (since repaid, she says), and receiving cars from him (though not which cars, or how many). Though she was born into great wealth, and lived in high style in homes in New York (the mansion she occupied on the Upper East Side sold in the year of the deposition for more than $15 million) and London, she describes herself in 2016 as "couch surfing." Asked about citizenships, she says she is a citizen of the U.S., the U.K., France, and TerraMar (the oceans-conservation nonprofit she founded and has acknowledged Epstein gave at least $50,000 to; it was shuttered in July 2019).
The Maxwell that emerges from this deposition is as elusive as ever, and her motivations for her alleged actions remains unclear. Asked what negative, unflattering, or embarrassing information on her Epstein might have, she says she can "imagine none." Why, Giuffre's lawyer asked her at one point, did she remain in contact with Epstein, even after his 2008 guilty plea and incarceration?
"I'm a very loyal person," she said. "Jeffrey was very good to me when my father passed away and I believe that you need to be a good friend in people's hour of need and I felt that it was a very thoughtful, nice thing for me to do to help in very limited fashion which was helping if he had any issue with his homes, in terms of the staffing issues. It was very, very minor but I felt it was thoughtful in somebody's hour of need."
Maxwell's trial is currently scheduled to begin July 12, 2021.