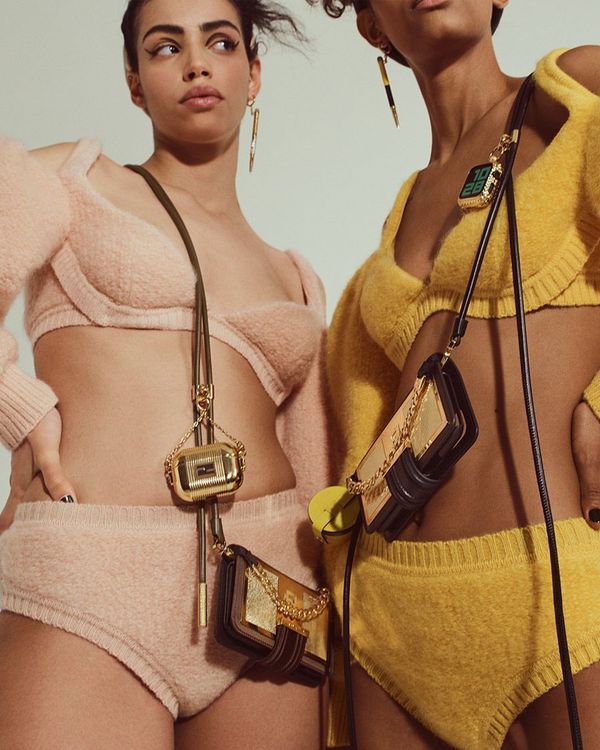 There are two kinds of people in this world: those who think an electronics case is for protecting their electronics (boring), and those who know it's actually a way to flex your style (exciting). Until recently, I didn't know which kind I was. But then I saw Fendi's golden AirPods Pro case.
When Silvia Venturini Fendi showed her final womenswear collection this past February, some of the models walked down the runway wearing iPhone cases that looked like tiny little handbags. Others had Apple Watches clipped to their bags. This month, the Italian brand launched the full "tech jewelry" capsule collection in collaboration with Chaos, a British electronic-accessories brand founded by Charlotte Stockdale and Katie Lyall.
There are gold iPhone and Apple Watch cases, fuzzy laptop covers, and even a tablet pen that doubles as an earring. But the most gloriously ridiculous item is the AirPods Pro case. It's all gold with the Fendi logo emblazoned on the front and chains connecting to a clip for easy attachment to your belt or purse. Perhaps you could even wear it as an earring, too. Obviously, you could put a pair of AirPod Pros in it, but why not use it as the teeniest handbag? It could make a luxurious home for a single penny, maybe, or two M&M's. The options are endless.
Still, being the self-aware person that I am, I had to ask myself why I love the case so much. It's not just that it's tiny and cute. After some deep psycho-emotional diving, I realized it reminds me of my pilgrimage last spring to Asian Garden Mall — a Vietnamese-owned shopping center in Westminster, California, that gives Canal Street a run for its money. Think enormous "Chanel" pendants carved from jade that the French brand definitely does not make. The mall made me think of the people in my family who love anything with a designer logo on it, even if it's fake, as long as it's over-the-top. For them, the theatricality is the point — it's a symbol of making it in a new country.
To me, the Fendi collab strikes the same note. I'd gladly store my bougie AirPods in an equally bougie $770 case.