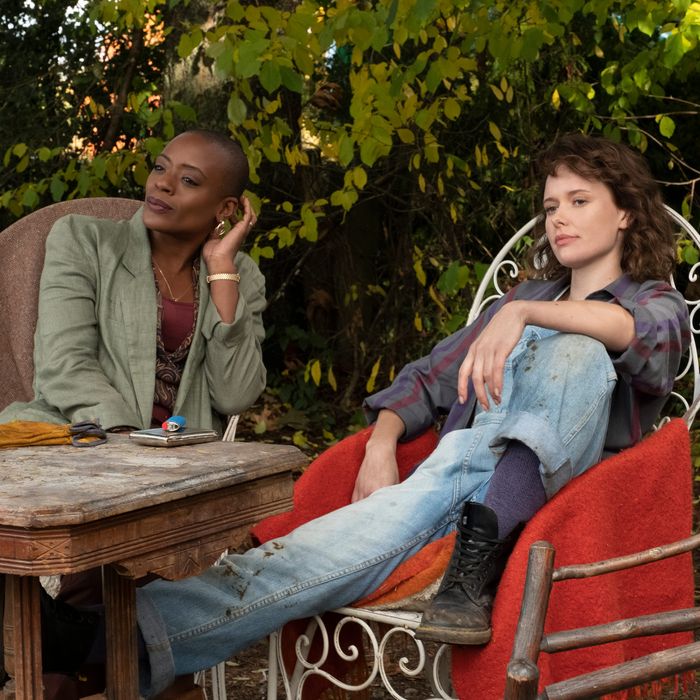 Photo: Courtesy of Netflix
I'd typically avoid something like The Haunting of Bly Manor, Mike Flanagan's new Netflix series about, among other things, a very haunted country house. (I know it's the season, but who needs to be more scared right now?)
And then I heard that everyone in Bly is hot — even the ghosts. It turned out to be true: The cook (Rahul Kohli) is hot, the butch groundskeeper (Amelia Eve) is hot, the wide-eyed American au pair (Victoria Pedretti) is hot, and the local evil spirit (Oliver Jackson-Cohen, The Invisible Man himself) could definitely get it (we love ghost sex).
Are the hot people enough to get you over the fear of watching murderous ghosts terrorize an English manor house? Alone, maybe not, but with a plot like Bly, it's well worth the sweaty palms. The show is Flanagan's follow-up to his 2018 The Haunting of Hill House, and is based on Henry James's novella The Turn of the Screw, about a nanny who goes to care for two orphans on a remote English estate, and becomes convinced that — after a series of disturbing events — the grounds are very haunted.
It doesn't take long for the nanny, Dani (Pedretti), to realize that. I mean, the governess before her died by suicide a few months into the job, she keeps seeing mysterious figures in the hallways, and the two British kids she looks after are terrifying. The little girl, Flora (Amelie Bea Smith), has a whole collection of spooky dolls, and the boy, (Benjamin Evan Ainsworth), was kicked out of school for trying to murder a classmate. Plus, they seem to be talking to dead people, and are occasionally possessed by them. Between the kids, dolls, and a haunted house, you'd think Bly would be the sum of its horror tropes. It's not, though: Not only does the ending subvert all of your expectations, you realize that Bly is a love story, dressed as a scary one.
The acting, too, is astounding. Pedretti, who stole the show opposite Penn Badgley in You last year — and has even won an MTV movie award for "Most Frightened Performance" — is resplendent. A single terrified look from Dani is more effective than ten jump scares, which is a good metaphor for the slow-burning fear you'll experience while watching the series. Kohli also gives a breakout performance — his will-they-won't-they relationship with the housekeeper, played by T'Nia Miller, leaves you wanting so much more.
And like every good horror, it's Bly's ability to convince the viewer of their own doubt and shaky faith that makes it so good. Are the ghosts real, and malignant? Or is Dani — traumatized by her own past — imagining the horror around her? Which is more terrifying?