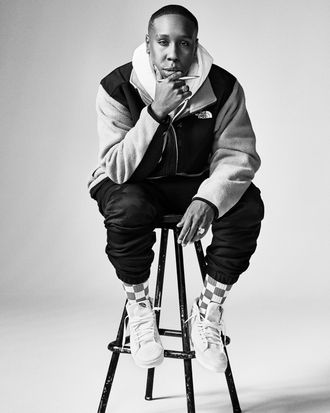 Photo: Courtesy of The North Face
The outdoors has become a sanctuary for many of us this year. Whether it's the park you go to during work-from-home lunch breaks or the weekend hiking trip your friends have planned as a socially distanced hangout, enjoying time in nature has been helping us get through the challenges of 2020. But although exploring nature should be a peaceful and accessible escape for all, we've seen the dangers and limitations met by communities of colors while occupying space in the outdoors.
The North Face knows this, which is why, as part of its new global "Reset Normal" initiative, the brand is pledging $7 million toward diversifying the outdoors. It will do this through the Explore Fund Council, a global fellowship program launched in partnership with Emmy Award–winning screenwriter, producer, and actor Lena Waithe and climber and Academy Award–winning director Jimmy Chin. The idea is to create a group of experts across culture, entertainment, academia, and the outdoors to help guide the brand on spending that $7 million.
"For me, exploration has always been a mindset," says Lena Waithe. "As a creative I see myself as a constant, curious explorer and I believe everyone can have and should have access to this right. The only real way to see change happen is by helping to create it yourself. I'm excited to work with The North Face and all of the Explore Fund Council members so our collective perspectives can help diversify the outdoors and make it a more equal place for all."
Studies have found that people of color are more likely to live in nature-deprived places, and they're often faced with systemic racism when they do explore. So the first-year goal for the program is to focus on creating exploration opportunities for those who lack access, as well as bringing a diverse group of people together to experience the benefits of exploration.
"My hope is to not only show different kinds of people exploring the great outdoors but it's also to put it into action in the real world," says Lena Waithe. "I want to help give people access and amplify those that do occupy the space. We want to make sure they don't feel invisible. We also want others to join them, but first they must feel welcome. This world belongs to all of us — and the sooner the powers that be realize that the better. My industry can easily change this narrative by showing more than one type of character enjoying the great outdoors. If certain groups of people aren't seen in those environments it sends a message to them that they don't belong there. And that's just not true."
The North Face plans on creating additional programs, including some that will create mentorship opportunities for those who are interested in exploration but have limited resources.
"For ten years, we've been working to reset the barriers to exploration and make it more accessible for all through our Explore Fund," said Steve Lesnard, global VP of marketing and product for The North Face, which is the world's largest outdoor brand. "But 2020 has proven we need to radically accelerate that work and collaborate with a broad-reaching community to help us do so. We're really excited to work alongside changemakers like Lena and Jimmy, and I believe the Explore Fund Council will help us foster a new, more equitable era for the outdoor industry."
To launch the Reset Normal campaign, Sid Lee directed a video anthem that brings to life crucial moments we are experiencing culturally in 2020 and show how the power of exploration can help people reset.