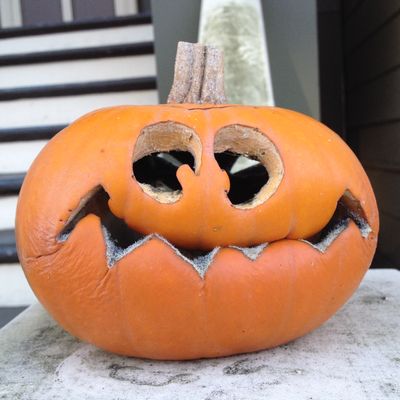 Last weekend my husband sent me a text from inside a JoAnn Fabrics. "I think we can just make his pumpkin costume out of papier-mâché," he wrote. Here we go, I thought, anticipating the early stirrings of our annual Halloween fight. I sent back a photo of myself making a concerned (if not dubious) face, hoping to communicate my unease in a way that was, I hoped, lighthearted.
Our 6-year-old wanted to be a pumpkin for Halloween and instead of going online and spending $40-plus expedited shipping, we were — okay, my husband was — going to assign ourselves a craft? In a pandemic?
But then I reminded myself: It's not normal Halloween, it's pandemic Halloween. I'd been surprised, whenever I really stopped to think about it, how sad that made me. Could Halloween really not happen? Who was in charge of Halloween, anyway — was there a governing body? (For the record, the CDC did publish a list of recommendations.) Where we live in Oregon, like many other places across the country, cases are climbing. As we keep saying to our kids in our best responsible parent voices, "Halloween is not cancelled. It's just going to be different." What's surprised me is how this year has altered my usual Holiday Angst. Will being forced to abandon traditional Halloween and make our own fun actually be … fun? I genuinely hope so.
As a parent, Halloween has never been one of my values. If it were up to me I'd order my children's costumes online, maybe from a few different Etsy stores if I was feeling energetic. Ever since my first back in 2014, my goal as a mom on Halloween has always been the costume version of no-makeup makeup:  to look good but not seem like too much of a try-hard.
The problem is I married into a Halloween family. My father-in-law is an artist who always handmade his kids' elaborate costumes. My mother-in-law sends our two kids boxes of terrifying skulls and giant spiders and a rubber rat that wiggles and says shit when you press its revolting little paw. My husband greets the season with glee, enthusiastically arranging fake spider webs and transforming us into a Halloween family of sorts, despite my roots. I asked my mom recently if she used to stress out about Halloween like I did, and she reminded me of all the last-minute costumes we cobbled together the day-of: a soldier (my dad was in the Army), a ballerina, a "clown," which was just me with face paint, wearing my parents' clothes.
"Gotta start thinking about it," I usually start saying about Halloween sometime in September, but I am never ready, not ready for the sun to set at 4:30 p.m., for the downhill slide into the holidays, all of the familial responsibilities that will be added to the heap.
Take last year, for instance: I took a weed mint on October 30 and, in a fit of pique, stormed into the kitchen to stand over my husband hand-painting a skeleton on a black Target sweatsuit at 10 p.m. and told him, through tears, that it looked like shit. He asked me, in so many words, what my deal was, and we then proceeded to have a fight that had more to do with me worrying about what other people think than Halloween.
Unlike me, my husband likes doing crafts — or at least he will do them — with and for our children. Whether it's gender or just personality, he is not as haunted as I am by the perceived judgment of other parents. He is not a perfectionist. He sees no need for a human skeleton drawn by hand with glow-in-the-dark puff paint to be anatomically correct. After all, what will a 5-year-old remember? A 5-year-old will remember how he dreamed up the idea with his dad, and dancing around the neighborhood in it, glowing, to everyone's delight.
I've always known that stressing about appearances instead of the experience is ridiculous, even as I grumble and wring my hands from the sidelines, but now — finally — I feel like I can really embrace Halloween. It feels like my family needs it this year. My guess is we're not alone in feeling like we could use something to give shape to our days, to provide us with a temporary distraction from more grave realities. I think we're probably more likely to find that with flawed costumes and un-self-conscious fun — a reprieve from the Instagram-ready moments of Halloweens burdened with more familiar expectations.
We will still dress up, we've reminded the children. There will still be candy. Our home is now decorated to a degree one might call "overcompensating." We will put Halloween stickers on plastic Easter eggs. Maybe we will build a bonfire. Maybe we will watch a spooky movie and gorge on Nestle products and warm apple cider? Maybe we will roast marshmallows. Maybe we will paint each others' faces — wildly and imperfectly — and maybe, for once, I will enjoy it.