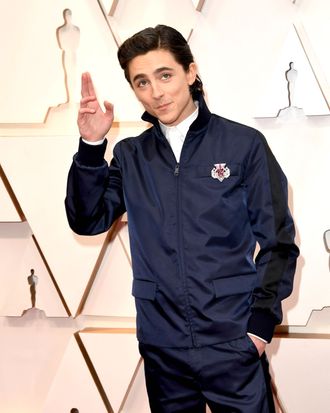 It's Lil' Timmy Tim.
Photo: ROBYN BECK/AFP via Getty Images
Well well well, what do we have here? Another report of two celebs ending a relationship that may never have been a technical relationship to begin with? Shocking, who was it this time?!
According to E!, Timothée Chalamet and Eiza González, first spotted together in Mexico over the summer. But apparently, things between them have been over "for a while now." Huh! Sounds familiar!
As you will doubtless recall, our angular boy and the Baby Driver star took a flirty vacation together in June. The Daily Mail published photos of the pair making out poolside in Cabo San Lucas, and E!'s own sources reported that the actors "couldn't keep their hands off each other." Four to five months later, things have clearly changed: someone who recently interacted with Eiza told the outlet that she didn't bring up Timmy Tim at all, and further, that she "seemed single."
Surely there are some people out there who know what happened between now and then, but none of them are me. According to Elle, though, it's possible that Timothée and Eiza were only hooking up for that one trip they went on together. A multi-day international getaway does sound mildly implausible as a first date, but then again, they're celebs! Still, Just Jared seems to think they got together "at the beginning of the year but were super private about their relationship." How does that possibility jell with the end of Timo's relationship with Lily-Rose Depp, reported in April? Couldn't say!
But while we are here: News of this supposed breakup comes hot on the heels of an eerily similar bulletin about Brad Pitt abdicating his title as sidepiece. At least insofar as German model Nicole Poturalski is concerned. You may know Poturalski as Pitt's married girlfriend, but apparently, they've also been "over for a while now," and were never even that serious to begin with. Just casually seeing one another where and when they could, it seems. Can you imagine? Not vaulting into monogamy overnight or, maybe, ever? And instead continuing to hook up for a little bit without strictly defining the terms of the arrangement, simply because it's fun? It's almost as if the stars, they're just like us — at least in this respect. A revelation, I know.
In any case, it appears that Timothée is back on the market. Maybe! Maybe.