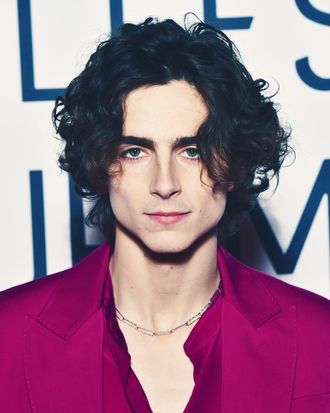 Photo: Stephane Cardinale/Corbis via Getty Images
Striped-turtleneck wearer Timothée Chalamet has finally addressed those 2019 photos of him and then-girlfriend Lily-Rose Depp making out on a yacht in Italy, in such a way as to make it seem like she was sucking the life force out of him through his mouth like a Dementor. In a long and flattering profile of the actor published in GQ on Thursday, Chalamet talks about his thespian tendencies, his research for the Bob Dylan biopic he'll be in, and his desire to be liked and a good person.
Then out of nowhere he switches to a topic of conversation that actually made me feel a lot of pathos for him: these pictures.
Chalamet said he found the photographs embarrassing and couldn't believe anyone would think it was a publicity stunt. After his boat date with Depp in Capri the actor says, "I went to bed that night thinking that was one of the best days of my life. I was on this boat all day with someone I really loved, and closing my eyes, I was like indisputably, 'That was great.'" Then morning hit. "Waking up to all those pictures," said Chalamet, "and feeling embarrassed, and looking like a real nob? And pale? And then people are like: This is a P.R. stunt. A P.R. stunt?! Do you think I'd want to look like that in front of all of you?!"
Damn, good point. As someone who untagged all of her Facebook photos early in the game, I can't turn away from Chalamet at his most human. I relate.