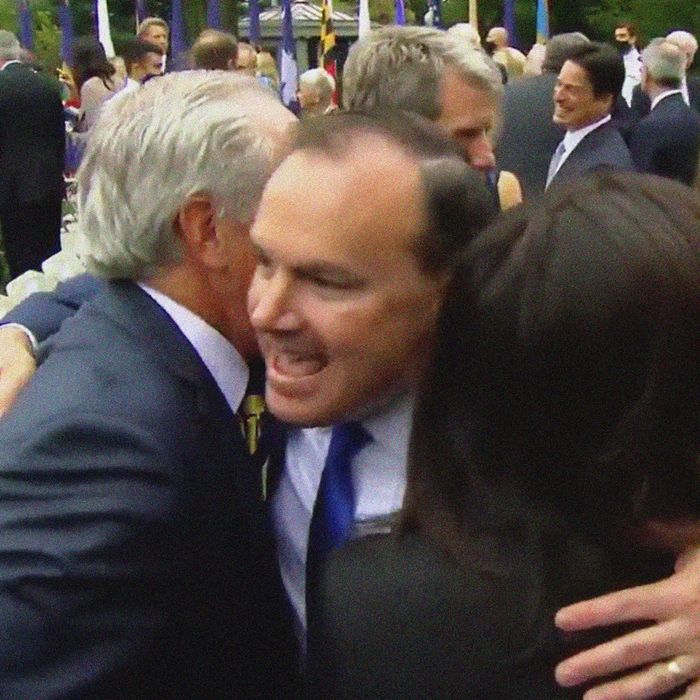 Photo: @bubbaprog/Twitter
First it was Hope Hicks. Then Donald and Melania Trump. Then Senator Mike Lee from Utah. Then Notre Dame University president Father John Jenkins, Chris Christie, North Carolina senator Thom Tillis, and Kellyanne Conway.
These are all prominent Republicans and members of Trump's inner circle who attended SCOTUS pick Amy Coney Barrett's nomination ceremony on Saturday, September 26, who now have tested positive for COVID-19. Given that the virus can incubate for up to two weeks before showing up in testing, it's possible that any number of them could have been sick at the event, even those who have so far tested negative. Even more positive results are likely to follow. With at least seven people becoming infected there, Barrett's nomination has become the possible site of a coronavirus super-spreader event — with massive implications. With at least three Republican senators in total infected with the virus (Ron Johnson of Wisconsin was not present but has tested positive), the GOP may not have the votes to confirm Barrett's nomination after all.
Which is why revisiting press footage of the ceremony in the White House Rose Garden is stunning, given how attendees were seen breaking nearly every pandemic protocol, despite the gravity of the moment: They shook hands, they hugged, and talked closely. Six of the seven infected guests were sitting in the first few rows of the mostly maskless crowd. Mike Lee in particular was documented in close proximity to a number of notable people throughout the day. In the video below, he is seen hugging a couple, who are then seen talking with and hugging Chris Christie; at another time, Lee posed with Barrett, indoors, for a photograph just a few feet away from her, both maskless.
Barrett herself shook hands in a reception line in the same room with attendees, a slice of the ceremony captured in another photograph, an image that now reads like an infection vector diagram in retrospect. Other now-positive members are also visible in photographs from the mingling, indoors, without masks and with their families. "We don't know that it's a super-spreader event for sure, but it certainly has all the makings of one," Joseph Allen, a public-health researcher at Harvard, told Vox. "When you have large numbers of people spending time in close contact, unmasked, and indoors, it's a recipe for super-spreading."
From there, it's not hard to spiral outward when thinking about just how many people could have been given the virus by those people since Saturday. Trump reportedly held several closed-door preparation sessions for Tuesday night's presidential debate with Christie, Conway, and Bill Stepien, Trump's campaign manager who has now — you guessed it — tested positive for COVID-19. The Trump family was then criticized for entering the debate maskless; a pool reporter saw a doctor handing out masks being deterred from giving them out to their guests. Trump did not get close, reportedly, to moderator Chris Wallace or the Biden campaign, but we also know that talking loudly in an indoor space can increase the chances of aerosol transmission, even when very distanced.
After the debate, Trump flew to Duluth, Minnesota, for a rally and fundraiser on Wednesday night, when Hope Hicks apparently started showing symptoms of coronavirus infection. He met unmasked with prominent donors, representatives, and state legislators. The fundraiser was held in a private suburban home, where reportedly "staff and guests lingered after the president was there," and attendees "sang karaoke" with "their arms around each other."
On Wednesday, after White House officials learned of Hicks's symptoms, according to the Washington Post, "Trump and his entourage flew Thursday to New Jersey, where he attended a fundraiser at his golf club in Bedminster and delivered a speech. Trump was in close contact with dozens of other people, including campaign supporters, at a roundtable event. The president did not wear a mask Thursday, including at the events at his golf course and on the plane, officials said." The White House gave New Jersey contract tracers the names of 206 people who should quarantine due to possible exposure after the Bedminster event. And the White House Correspondents' Association is telling journalists that three reporters and a White House staffer who sits with the press have tested positive. Now that Trump has been hospitalized, there are doubtless dozens of hospital staff and other essential workers fearing possible exposure — not to mention the Secret Service, catering staff, and others who worked the Rose Garden event in the first place.
If I were not as peaceful and loving a person, I might think about how ironic it is that at an event attended by hard-line "pro-lifers" for a judge many people believe wants to see Roe v. Wade overturned might have been a super-spreader event for a pandemic virus in part because attendees have amplified misinformation about protection protocols in an attempt to politicize science ahead of an election. And that this reckless behavior could now, quite possibly, finally be affecting them instead of the millions of Americans without their power and influence who have gotten sick and died. But, like I said, that's if I were not as peaceful and loving as I am.