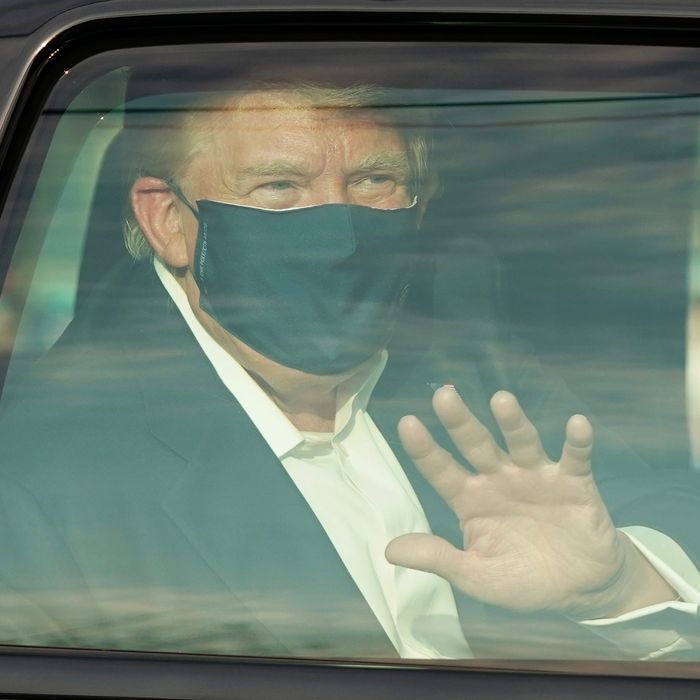 Photo: Alex Edelman/AFP via Getty Images
Monday morning seems like a good moment to take a deep breath and acknowledge the chaos this weekend brought us. We went from Hope Hicks testing positive for the coronavirus to a national Walter Reed hospital watch over President Trump as he suffers through what appears to be a fairly nasty case of the virus (though reports have been rather mysterious, and mixed), to nearly a dozen people in the president's circle, including three Republican senators, testing positive for the virus as well. But even as Sunday evening approached that news cycle wasn't done with us, not nearly, for those were the golden hours when our infected president got up and roped some Secret Service employees into taking him on a spin around the block for attention.
On Sunday, the president orchestrated a bit of political theater: a staged motorcade joyride outside the Walter Reed National Military Medical facility where he's been confined since Friday after testing positive for the virus earlier last week. A mask-wearing Trump could be glimpsed through the window of a black SUV. He waved and did a thumbs-up for a cheering crowd of supporters gathered outside the hospital. In a video posted to Twitter on Sunday, Trump described the outing as "a little surprise to some of the great patriots that we have out on the street."
Of course, Trump, like everyone who has tested positive for coronavirus any time in the past two weeks, is not immune to social-distancing guidelines that say he should continue to self-isolate, he just ignored them. The hammy outing was criticized sharply for putting the lives of those who accompanied Trump at risk. On Sunday Dr. James Phillips, a doctor at Walter Reed hospital, tweeted about the president's horrific, potentially life-threatening judgment, writing, "Every single person in the vehicle during that completely unnecessary Presidential 'drive-by' just now has to be quarantined for 14 days. They might get sick. They may die. For political theater." Other medical professors have since chimed in, such as George Washington University medical school professor Jonathan Reiner who pointed out that, "In the hospital when we go into close contact with a COVID patient we dress in full PPE: Gown, gloves, N95, eye protection, hat. This is the height of irresponsibility."
A White House spokesperson named Judd Deere said that the drive was "cleared by the medical team as safe" and that "appropriate precautions were taken." Given that we know something by now about how this virus spreads, the latter statement at the very least cannot be true. And it wouldn't be the first time in the past week that Trump didn't take necessary precautions, starting with refusing to isolate after his adviser Hope Hicks tested positive for the virus on Wednesday.