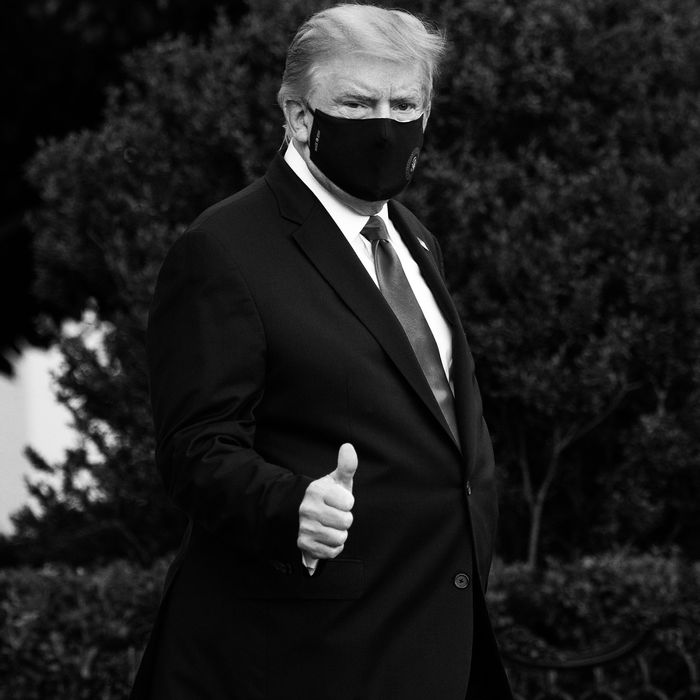 Photo: Saul Loeb/AFP via Getty Images
With the number of Trump allies diagnosed with COVID-19 nearing the double digits, the White House is a veritable coronavirus petri dish. At first, every new name of the positive brought a jolt of Schadenfreude. Today, for example, minutes after White House press secretary Kayleigh McEnany announced her own diagnosis, a delicious, healing video was unearthed of McEnany confidently braying on Fox News in February that "we will not see diseases like the coronavirus come here."
But even the irony is almost getting hard to hold on to; the feelings this news cycle inspires burn too hot to be felt with the remove Schadenfreude requires. As the sideshow of COVID-19 at the White House gets more insane, even for this administration, my delight is souring to pure electric outrage. How could these people, with this much power and protection, be this reckless, this stupid? True Schadenfreude requires the subject's pain and humiliation; we have none of that to revel in when the Trump coterie is incapable of letting reality penetrate their minds, even as it literally invades their bodies. We can disabuse ourselves of any notion that these infected people are even aware of their comeuppance. Instead, they're already using this to their advantage.
By Monday morning, campaign spokesperson Erin Perrine was attempting to spin Trump's positive infection into a positive attribute over his opponent Joe Biden, New York's Olivia Nuzzi reported: "He has experience now fighting the coronavirus as an individual … Joe Biden doesn't have that." By the afternoon, Trump had already announced he would be leaving the hospital in the evening, transfiguring his coronavirus infection, a product of ineptitude and recklessness, into heroism. Instead of merely telling us all that the coronavirus isn't so bad, he could speak from experience. "Don't be afraid of Covid. Don't let it dominate your life," he tweeted. "We have developed, under the Trump Administration, some really great drugs & knowledge. I feel better than I did 20 years ago!"
In Trumpworld, the recent past is not immutable, out of our control. It is something that can be put through a sieve, filtered — you end up with what you want to end up with, no matter what the truth is. And so Americans are supposed to forget that the president still maintained the virus will "be gone soon" just the other week, that he said for months that the coronavirus was only as bad as a seasonal flu, and that his employees in the White House leave their masks at home to get on his good side. In place of these memories, this administration would like to insert Trump's triumph over the virus like some cartoonish Popeye (instead of spinach, he's on "some really great drugs"). It's a galling, maddening pivot, and not only because it denies us of our Schadenfreude.
The Trump camp's distortion is an outright denial of the horrific truth of the pandemic: It does dominate so many lives, largely those whose circumstances bar them from the care Trump just received. At least two members of his housekeeping staff are among the infected. It is doubtful they will be able to access anywhere near the level of medical attention Trump, airlifted to a medical suite and pumped with a cocktail of drugs that haven't even hit the market yet, got with taxpayer money. The spin is not just totally cracked, like Trump's steroid-laced tweets the morning of his release; it is malicious and criminal, designed to continue to avoid responsibility for hundreds of thousands of American deaths, plus millions of sick and unemployed people. As I await the next name on that positive list (and, more than likely, for Trump to be forced to return to the hospital), I feel sick, stuck on a Gravitron, whirling around with no way to get off.