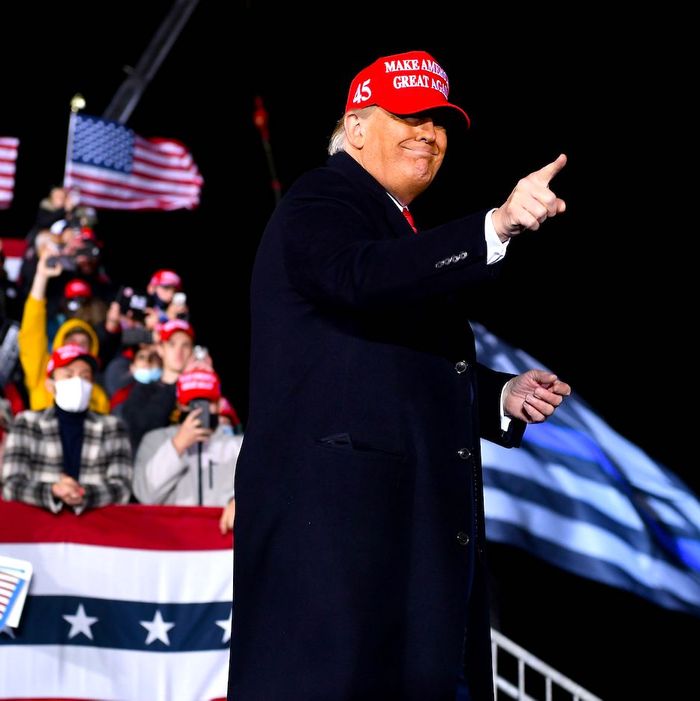 Donald Trump.
Photo: MANDEL NGAN/AFP via Getty Images
One thing that has become abundantly clear over the past four years is that, when President Donald Trump dog whistles into the ether, there is usually an audience ready to receive the signal. When the Justice Department recently announced that it had foiled an alleged domestic-terror plot to kidnap Michigan governor Gretchen Whitmer, she blamed Trump's aggressive criticism of her coronavirus lockdown protocol — the time he encouraged his supporters to "LIBERATE MICHIGAN," for example. Trump has not eased his condemnation of Whitmer since the FBI revealed the scheme, subsequently describing her as a "dictator" and, over the weekend, seeming to endorse calls for her imprisonment.
Trump addressed the planned kidnapping at a Michigan rally on Saturday, downplaying the seriousness of the thwarted attack, which allegedly involved conspirators transporting Whitmer to a "secure location" in Wisconsin to stand "trial" for treason. "I guess they said she was threatened, right?" he reportedly told the crowd, which responded with chants of "lock her up." Rather than discouraging that sentiment, Trump broadened the scope: "Lock 'em all up," he corrected his supporters.
On Sunday, Lara Trump — wife to Eric Trump and adviser on her father-in-law's campaign — told CNN that the president was simply "having fun," and that "he wasn't doing anything … to provoke people to threaten this woman at all." And yet, we have repeatedly seen that Trump's words have consequences: The men arrested for the would-be coup against Whitmer allegedly also thought about targeting Ralph Northam, the governor of Virginia, another state Trump said should be "liberated." When he recently told the Proud Boys to "stand back and stand by" rather than disavowing white supremacists' support, they seized upon the statement as marching orders. So in that context, Whitmer's interpretation of the president's comments — namely, that they are both "wrong" and "dangerous" — feels closer to the mark.
"It's incredibly disturbing," she told NBC's Meet the Press on Sunday, "that the president of the United States — ten days after a plot to kidnap me, put me on trial, and execute me was uncovered — the president is at it again and inspiring and incentivizing and inciting this kind of domestic terrorism."