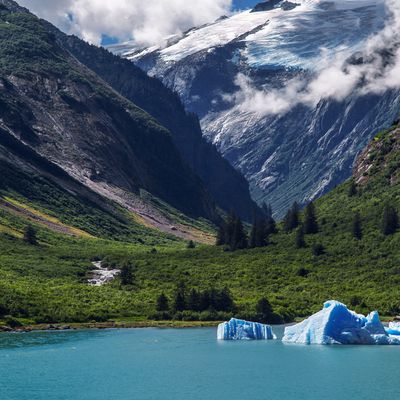 Tongass National Forest.
Photo: Artie Photography/Getty Images
Spanning nearly 17 million acres across Alaska's southern coast, the Tongass National Forest — the largest national forest in the country — is invaluable. As one of the world's biggest intact temperate rainforests, the Tongass is home to century-old cedar trees, Sitka spruce, and western hemlock, as well salmon, black and brown bears, and the world's largest-known population of bald eagles. Its landscape — which features sprawling islands, fjords, and glaciers — is visually stunning. Out of the 150-plus national forests in the country, it is often referred to as the "crown jewel."
Now, thanks to the Trump administration — which has demonstrated a steadfast commitment to rolling back environmental protections and decimating public lands — more than half the forest has been opened for logging and other development. In what the Washington Post calls "one of the most sweeping public lands rollbacks Trump has enacted," it is now legal for logging companies to build roads and harvest timber in 9.3 million acres of the Tongass. The new rule, which the Trump administration announced last month but was released yesterday, is effective today.
The rule is the culmination of a years-long battle over something known as the "roadless rule," a conservation regulation implemented by then-President Bill Clinton in 2001 that banned road construction and timber harvesting on nearly a quarter of all U.S. Forest Service lands. In 2018, Alaska petitioned the federal government to exempt it from the rule, arguing that doing so would open up the area to development and bolster the state's economy in the southeast. But among the public, per The Guardian, this stance couldn't be more unpopular. Last year, nearly 200 people — local tribal leaders, environmental activists, and fishermen — testified against the proposal. During the U.S. Forest Service's review of the proposal, 96 percent of the solicited public comments decried gutting the protections.
As opponents have long argued, stripping the Tongass of these vital protections would obstruct access to clean water, hurt Indigenous communities, and turn what is now one of our best weapons against climate change into a climate disaster. With its high density of old-growth trees, which are more efficient at capturing carbon than younger trees, the Tongass is crucial to decelerating global warming; according to the Washington Post, the Tongass's trees "absorb at least 8 percent of all the carbon stored in the entire Lower 48's forests combined." "While tropical rainforests are the lungs of the planet, the Tongass is the lungs of North America," Dominick DellaSala, chief scientist with the Earth Island Institute's Wild Heritage project, told the Post. "It's America's last climate sanctuary."
While it remains to be seen what exactly can be done, conservation groups have vowed that they will fight to protect the Tongass. "Earthjustice has spent decades in court defending the Tongass," Kate Glover, the nonprofit environmental law group's Juneau-based attorney, said in a statement last month, "and we will use every tool available to continue defending this majestic and irreplaceable national forest."