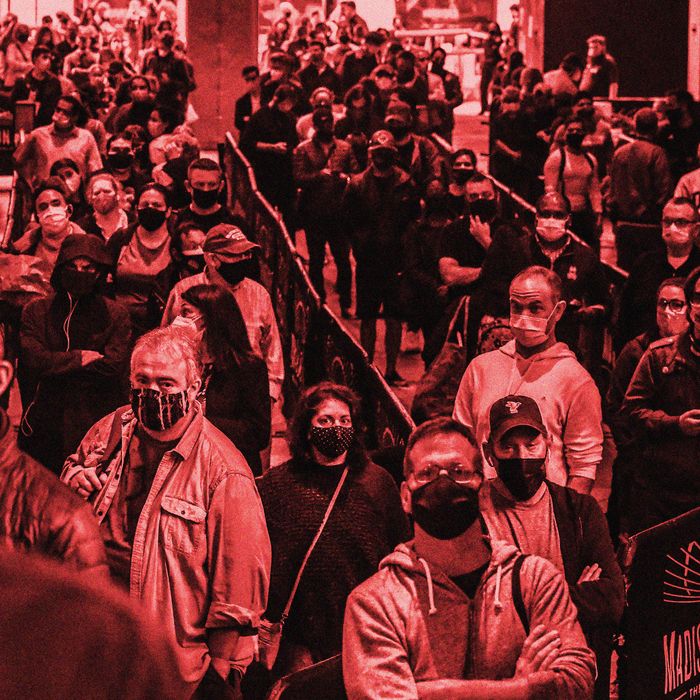 Photo: Stephanie Keith/Getty Images
Early voting is winding down across the United States as November 3 approaches, and the turnout is set to be historic: 66 million people have reportedly turned in early ballots, in person and absentee, which is 19 million more than the amount cast preelection in 2016, according to the U.S. Elections Project. Already, organizers in swing states are optimistic that those high figures could help flip them blue.
But even as millions mobilize ahead of Election Day, ostensibly to make the process easier, voting horror stories abound. In Georgia, voters in majority Black districts have stood in line for hours longer than in whiter counties. The Supreme Court just ruled against extending the mail-in voting deadline in Wisconsin, where USPS mail service has slowed — Democrats had asked that the state count those that arrive up to six days after Election Day as long as they were postmarked by November 3. Millions of people are not only navigating a voting plan in a pandemic, but record economic hardship and unemployment. Even Representative Alexandria Ocasio-Cortez waited in line in the Bronx: "There is no place in the United States of America where two-, three-, four-hour waits to vote is acceptable," she said. "And just because it's happening in a blue state doesn't mean it's not voter suppression."
Below are five accounts of voting in 2020, ranging from the mundane to the outrageous, that show just how difficult it can be to participate in our democracy. One person, a worker at Amazon demanding time off, hasn't voted yet despite wanting to; another, a young woman in Texas, wasn't able to at all.
The Amazon Worker Who Can't Take the Day Off
Ivan (a pseudonym), a warehouse worker in the transportation department at Amazon's JFK8 fulfillment center in Staten Island. Amazon workers are demanding a paid day off to vote. 
"I work in a huge fulfillment center. The volume there is one of the highest on the East Coast. In the transportation department, we make sure packages are ready for the truck, then we load the truck. It's grueling work. You're lifting boxes anywhere from 30 to 50 pounds. It's very physically demanding, not to mention the stress that comes along with that.
The vast majority of workers at JFK8 are coming either from the South Bronx or Brooklyn. The average commute time is about an hour to two hours. Some take at least three modes of transportation to and from work. Then it's a ten-hour workday — that's how Amazon is structured, where you work ten hours for four days a week. During peak times, sometimes it's over five days. So, that's the kind of schedule that we're talking about. You're away from your home pretty much two-thirds of the day, you get a day or two days off or whatever, then that's time for you to recoup, catch up on your chores.
I'm not saying you couldn't forge out that time to go and vote, but why should we have to impede on the time that we normally would have for our personal lives? As for paid time off … you don't get that many hours per cycle. We could utilize UPT, which is unpaid time off. But that's the equivalent of not coming to work. You lose the entire day's salary. I'm hearing my co-workers say, "I'm not going to vote. I don't have time. I leave my house in darkness, so to speak. And by the time I get home, it's almost midnight." We have a company that has emphasized leading up to the election how important it is to get out the vote. Now, my take is you should put your money where your mouth is. You should now extend your workers to give them unfettered access to the ballot."
The Man Who Waited Ten Hours
Rufus, a retired army officer in Marietta, Georgia, where state polling locations have been cut by ten percent.
"My wife and I got up early and said, Okay, let's get this done, thinking that if it was a bad day, it would be about an hour and a half. As soon as we got there, we realized it would be a lot longer. There are 700,000 people in Cobb County, so you would think there would be multiple polling locations, but later we learned that there were actually only two for that day. You see the line continues to grow and grow, but you didn't see people coming out at the pace, not even close. And so that's when you begin to worry a little bit.
People really took care of each other. When you've been in line for hours with folks, you learn a little bit about each other. If someone had to go relieve themselves, everybody would announce, "Hey, this individual's with me. I'm holding their place in line until they come back." If someone needed to go get something to eat, the same thing. In the trunk of my car, I happened to have little portable chairs for my wife and myself. But there was an elderly woman behind me, so I offered it to her.
I saw folks leave even after an hour of being in line, I guess they had to go to work. A woman that was in line in front of me needed to pick up her kids at school. The long, agonizing wait — we're talking about standing for hours and hours. Not everybody's in that type of condition. You saw a lot of people go and take breaks. When I got inside finally, to see that there were only eight machines was a real disappointment.
It's hard for me to see this not being by design. When you compare the areas in the Atlanta metro area — let's say you look at Buckhead [a majority-white district], for example. They didn't have those types of issues. But look, look at the voting history there. Look at the economic makeup of the folks in that area. I can only sum that up as voter suppression."
The Voter Whose Registration Was Lost
Maddie is a 23-year-old who works two retail jobs in Houston, Texas.
"There is no online voter registration in Texas, so I printed out the forms and dropped them off at the post office near my house along with my parents' registrations. I registered a week before the deadline but didn't realize until after that my parents' registrations went through but mine did not. When I called to ask if I could appeal, they said it was 'lost' and there was 'nothing they could do.' They also said that they'd received many complaints about lost registrations. When they said that, I cried. I know that sounds stupid, but this meant a lot to me. I'm lucky I had access to a printer, but in the end it made no difference. It's not fair or accessible. I'm going to try and vote in person anyway."
The Woman Who Was Told She Was Dead
Maryann Leonard, a woman in North Carolina, went to vote and was told she had been removed from the voter rolls because she was dead, according to CBS17. After calls to the state board of elections, Leonard learned that she had been mixed up with a woman in her county with a similar birthday and name. That woman had died, and Leonard (obviously) had not. "When I went up to give the woman my information she looked up and said, 'You're ineligible to vote,' and I said, 'I can't imagine why.' She said, 'Let me find out.' Then she told me, 'It says you're dead,'" Leonard told CBS. "If you're mailing in your vote, you would never know this."
She was eventually able to vote.
The Student Who Says He Had to Fly Home to Vote
Brad Bain, a college student in California, said that he was forced to vote in person in Texas because he was blocked from registering for an absentee ballot. "I'm literally spending >$400 to fly to Dallas and vote in person because you 'accidentally' flagged me as committing voter fraud in 2018, took me off the voter rolls, and made me ineligible to vote by mail in 2020," Bain tweeted at Texas senator John Cornyn on October 19.