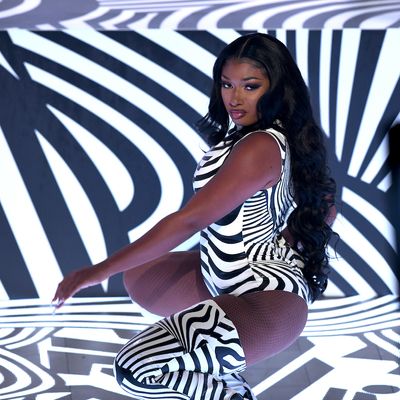 Megan Thee Stallion.
Photo: NBC /NBCU Photo Bank via Getty Images
Granted, I did not watch last night's Saturday Night Live season premiere, given that the memory of Tuesday night's unbearable presidential debate is still screaming inside my skull and who needs to see it rehashed? I am told, though, that rapper Megan Thee Stallion was a standout in her debut, nailing all aspects of the SNL repertoire from comedic appearances to musical performances. She also got some powerful commentary in, projecting "Protect Black Women" in the background of her "Savage (Remix)" performance and reserving a few choice words for Kentucky attorney general Daniel Cameron.
Around the midway point in her performance, the black-and-white-patterned background on the stage goes dark, punctuated by gunshots. Then comes a clip from Malcolm X's 1962 "Who Taught You to Hate Yourself?" speech, the content lightly condensed from the original.
"The most disrespected, unprotected, and neglected person in America is the Black woman," he says. "Who taught you to hate the texture of your hair, the color of your skin, the shape of your nose? Who taught you to hate yourself, from the top of your head to the soles of your feet?"
The clip then cuts to activist Tamika Mallory's criticism of AG Cameron. On September 23, Cameron — Kentucky's first Black attorney general — announced that just one of the officers involved in Breonna Taylor's killing would face charges and not even for her death. Now, it seems as though Cameron's office may only have presented the grand jury with the option to charge former detective Brett Hankison and in an upsettingly limited capacity at that. The non-indictment prompted widespread protest and criticism of Cameron specifically. In the clip Megan Thee Stallion played, Mallory says, "Daniel Cameron is no different than the sell-out Negroes who sold our people into slavery."
Megan also made her own statement. "We need to protect our Black women and love our Black women," she told the audience. "'Cause at the end of the day, we need our Black women. We need to protect our Black men, and stand up for our Black men, 'cause at the end of the day, we're tired of seeing hashtags about Black men."
In July, Megan announced that she had "suffered gunshot wounds, as a result of a crime that was committed against [her] and done with the intention to physically harm [her]." The artist subsequently confirmed that rapper Tory Lanez was the one who shot her, and yet it was Megan herself who wound up the butt of nasty jokes. "Black women are so unprotected & we hold so many things in to protect the feelings of others w/o considering our own," she tweeted at the time. "It might be funny to y'all on the internet and just another messy topic for you to talk about but this is my real life and I'm real life hurt and traumatized."
Anyway, I'm probably biased for having watched only the parts of last night's SNL episode that featured Megan. But based on my viewing, I'd say our WAP queen of summer really carried the show.