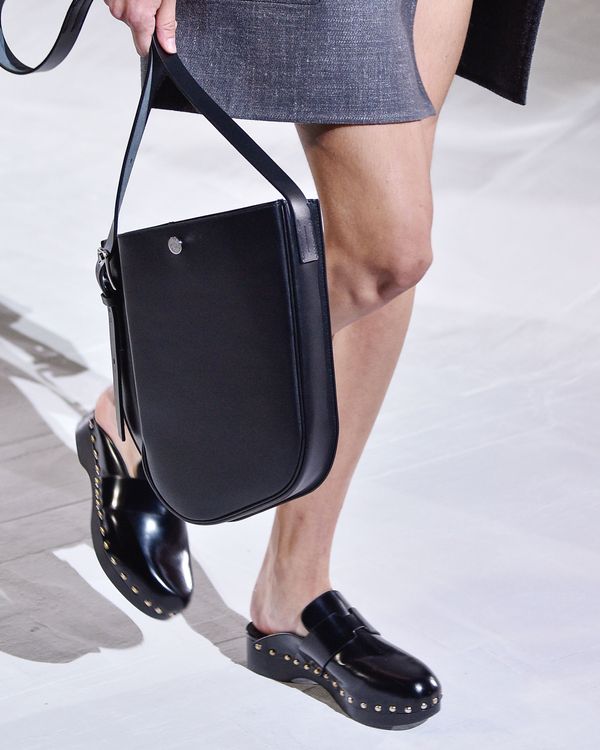 Photo: Peter White/Getty Images
Recent evidence shows that Crocs can be hot, but what can be said of the classic granny clog? Can the sensible shoe of choice of quirky middle-school art teachers and creative-class Brooklynites actually achieve a Parisian degree of chic? For their spring 2021 show, Hermès made a compelling case when it sent every single model in clogs down the runway.
The folklorish shoe has inspired many designers throughout the years — take, for instance, Tom Ford and Alessandro Michele at Gucci; Maria Grazia Chiuri, with her DiorQuake clogs for fall 2018; and Molly Goddard, who also showed clogs for fall 2019. Hermès's creative director, Nadège Vanhee-Cybulski, gave her own luxurious take. The collection was inspired by a vision of "resurrection," she told British Vogue. "You rest; you feel better; you recalibrate; you rediscover the most essential things, and realize what is clutter in your life." These days, clutter might include all the heels and thigh-high boots that've been locked away for most of the year, as our wardrobes have pivoted toward comfort and convenience.
Clogs are agreeably comfortable, but rarely did clogs and chic belong in the same sentence until now. But Hermès has impeccable taste. (After all, this is the French heritage brand with a waiting list for its Birkin bags.) And perhaps this makes us fashion victims — to think something that's ugly is suddenly a good idea simply because Hermès did it. But how can you not fall victim when it describes comfy clogs as "utility meets sensory pleasure"? Suddenly, wearing sweats and clogs all fall and winter isn't just about being comfy … it's about experiencing sensory pleasure. How French!