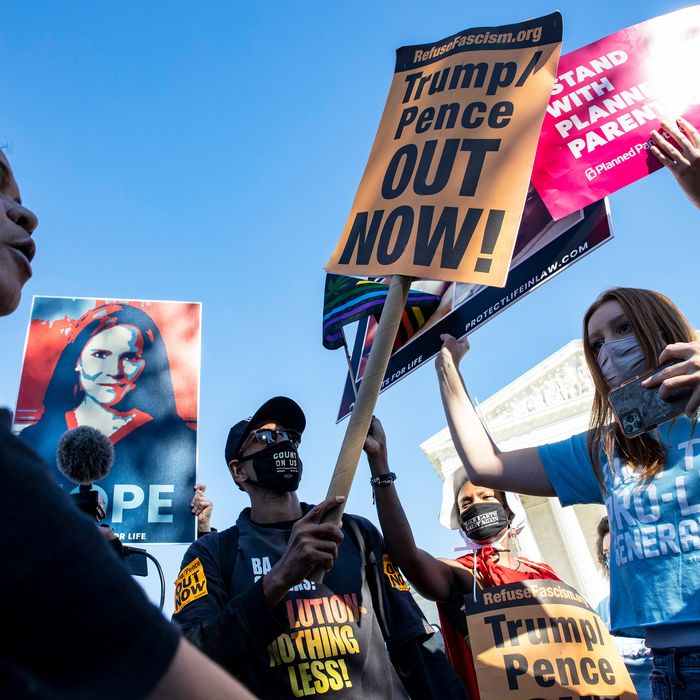 Photo: Stephen Zenner/SOPA Images/LightRocket via Gett
With the appointment of Judge Amy Coney Barrett to the Supreme Court, the legal battle over reproductive rights in the United States is likely to intensify quickly. There are currently 17 abortion-related cases one step away from the Supreme Court. And now, with a 6-3 conservative majority on the Court, the future of Roe v. Wade — the 1973 case which ruled that abortion is a constitutional right — is more uncertain than ever.
Barrett, a devout Catholic and former mentee of the late conservative Justice Antonin Scalia, evaded questions about abortion during her confirmation hearing. But pro-choice groups like NARAL and Planned Parenthood have called her a "clear and present danger to Roe and reproductive freedom," and "a particular insult to the legacy of Justice Ginsberg." Indeed, Barrett was a member of an anti-abortion, "right to life" group in Indiana as recently as 2016, and in 2013, she gave two talks to anti-abortion student groups at the University of Notre Dame.
Should the court reverse Roe, abortion would immediately be banned in several states due to what are known as "trigger laws": legislative bans on abortion that aren't active while Roe is in place, but will be "triggered" and automatically make abortion illegal as soon as the landmark decision is overturned.
Below, what you need to know about so-called trigger laws.
Ten states have passed post-Roe trigger laws.
According to the pro-choice research organization the Guttmacher Institute, ten states have passed laws post-Roe that would, if Roe were overturned, immediately ban all or almost all abortions, including Arkansas, Idaho, Kentucky, Louisiana, Mississippi, Missouri, North Dakota, South Dakota, Tennessee, and Utah.
Some of these laws have been on the books for over a decade (Louisiana passed its trigger bill in 2006) but a third were passed in the last year, HuffPost notes. This is likely in response to the appointment of Brett Kavanaugh to the Supreme Court, and to the Trump administration's explicit anti-choice platform.
Some states still have pre-Roe abortion bans on the books.
Additionally, nine states have kept pre-Roe abortion bans on their books, and while these laws have not been enforced since Roe, the Guttmacher Institute says they could potentially be used to restrict the legal status of abortion if Roe were overturned. These states are Alabama, Arizona, Arkansas, Michigan, Mississippi, New Mexico, Oklahoma, West Virginia, and Wisconsin.
Even without being "triggered," these laws still have negative consequences.
Such laws create a "climate of confusion," Jessica Arons, a senior advocacy and policy counsel for for reproductive freedom at the American Civil Liberties Union, told HuffPost, explaining that people unfamiliar with the details of these laws might interpret them as outright bans that are already being enforced, and be worried about seeking an abortion within their state.
Even beyond that, Arons went on, having these laws in place demonizes abortions, and the people who seek them. "Every time you have a legislature pass either an actual ban or the threat of a ban, which is what a trigger law is, then it sends a message that abortion is either a crime today, or it will be in the very near future, and that it should be."
So what can we do?
As Politico noted in September, there are several cases in the Court's pipeline that would allow it to severely restrict access to abortion without having to confront Roe directly. And even with Roe still in place, many states have managed to make abortions effectively inaccessible for much of their population by implementing restrictive laws that limit how, when, and where people can get them.
"There are so many people for whom abortion access doesn't exist — in the South, in the Midwest, for poor people, for Black people," Robyn Marty, author of the books The End of Roe v. Wade and A Handbook for a Post-Roe America, told the Cut back in September. If trigger laws in the South and Midwest are activated, Marty says, "we're getting to a point where we are literally talking about a region in which every person who needs an abortion will have to fly somewhere."
Marty estimates that we won't see any sort of federal change on the matter until next June. In the meantime, those looking to help can donate directly to funds that help pay for abortion care and transportation to clinics for those who cannot afford it, in states with restrictive abortion laws. Here's a complete list of funds that could use support.