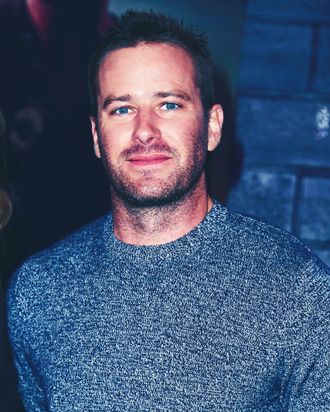 Armie Hammer.
Photo: Jon Kopaloff/Getty Images,
Over the summer Armie Hammer and his wife of ten years, Elizabeth Chambers, announced they were getting a divorce. The couple posted identical Instagram statements about the dissolution of their marriage and held their cards close to their chest. Chambers filed for sole custody of the couple's two children, Hammer for joint custody, and the gossip columns were none the wiser. Until now, perhaps, as the Daily Mail is reporting that Chambers was motivated to ask for a divorce after discovering "passionate texts" on Hammer's phone in the fall of 2019.
Chambers found the texts on Hammer's phone after filming of Rebecca ended in August 2019, according to the Daily Mail. The two reportedly started couple's therapy and remained together through the beginning of the COVID-19 pandemic, when the family isolated together in the Cayman Islands. At the start of this summer Hammer traveled to Miami and, per the Daily Mail, "accidentally sent Chambers a sexually explicit text" that she knew was meant for another woman. On July 10, Chambers and Hammer announced their separation.
I hope everyone has learned their lesson and will stop doing terrible adaptations of Rebecca.