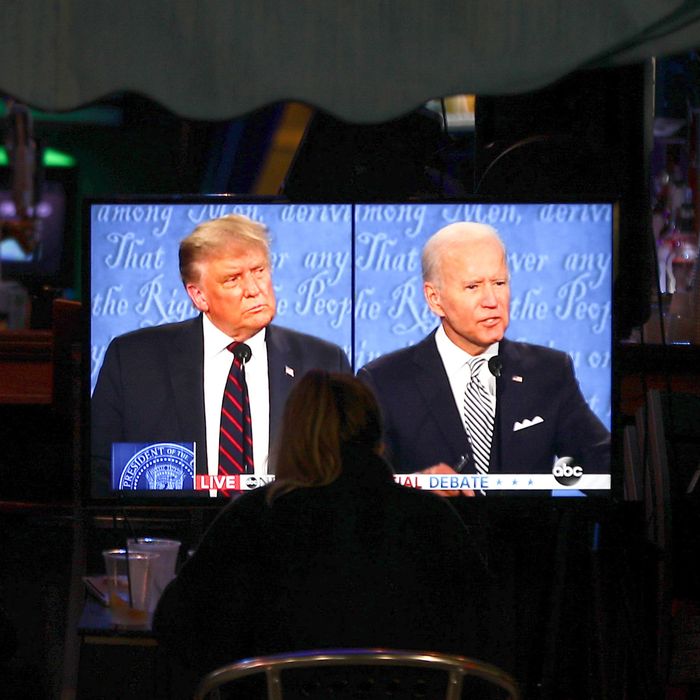 Photo: Tayfun Coskun/Anadolu Agency via Getty Images
The first presidential debate was basically unwatchable. And the second? Virtually unwatchable. That is, if it even happens at all.
The Commission on Presidential Debates announced Thursday that the second debate, scheduled to take place October 15, will be broadcasted remotely so participants don't need to physically be in the same room, due to concerns over potentially spreading the coronavirus. (The planned moderator, Steve Scully of C-SPAN, has not changed.) As you may recall, Trump tested positive for the virus last week and has since demonstrated little impulse control, even when it comes to potentially exposing others to COVID-19.
Minutes after the announcement, Trump reacted by saying he wouldn't participate. "No, I'm not going to waste my time on a virtual debate, that's not what debating is all about. You sit behind a computer and do a debate, it's ridiculous," Trump said in an interview on the Fox Business channel. Erroneously, Trump told host Maria Bartiromo, "I don't think I'm contagious." He also accused the commission of "trying to protect Biden," although it's not really clear if he meant from himself. Meanwhile, Biden's campaign issued a statement saying that he "looks forward to speaking directly to the American people."
Prior to the Comission's announcement, both campaigns seemed on track to participate in the second debate, which was scheduled to take place in Miami, if Trump was in good health. On Tuesday, the day after he left Walter Reed hospital where he was being treated for symptoms of COVID-19, Trump tweeted that he was "looking forward to the debate." Biden told reporters on Tuesday evening that if Trump was still infectious at the time it was set to take place, then "we shouldn't have a debate." Now, NBC reports that Trump's campaign is privately discussing the possibility of holding a rally in Pittsburgh around the same time as the debate would have been.