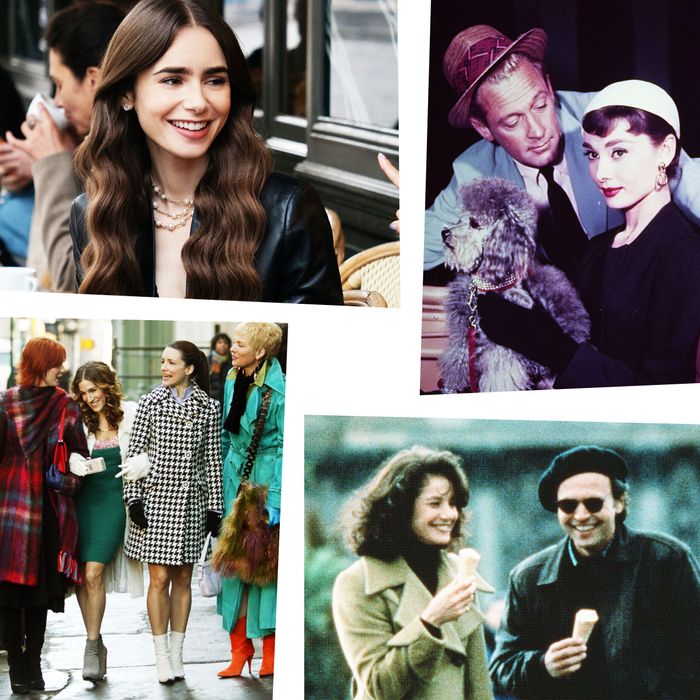 Photo: Netflix, Shutterstock, Everett Collection
I was the original Emily in Paris. Okay, so they probably already had the script, cast, and title by the time I made it there, but my name is Emily, and this time last year I was indeed living in the City of Lights.
I didn't move there to "find myself." I just went to study abroad for a few months, hoping I'd eat some good food and learn a bit of French while I was there. Still, I was deeply familiar with the trope from movies and television: Young woman moves somewhere exciting like Paris, leaves a changed woman, maybe has an affair with a sexy French guy along the way. I'd be lying if I said I wasn't hoping for all of that for me, too. Sadly, none of that came to pass, but no matter: I can still rewatch the films and shows that planted the idea in my head in the first place.
The Lizzie McGuire Movie 
This was my first run-in with the "girl goes to a foreign country and it's magical and life-changing" story line. In this case, the country is Italy, and the magical, life-changing detail is that Lizzie happens to look exactly like a major Italian pop star, so she takes her place for a week. Gentle, PG-rated hilarity ensues.
Mamma Mia 2 
Donna Sheridan moves to the picturesque (fictional) Greek island of Kalokairi, has three passionate affairs, gets pregnant, and ultimately discovers everything she wants in life.
Sex and the City 
That other Darren Star creation. In the show's final season (in this house we do not recognize the films, at least not the second one), Carrie Bradshaw moves to Paris to be with her boyfriend, Aleksandr Petrovsky. She's expecting it to be fabulous, but it turns out to be a bit of a roller coaster. And then … Big shows up and whisks her back to NYC.
Sabrina 
This film — whether it's the version from 1954 or the 1995 — is the epitome of the trope. Sabrina Fairchild lives at a Long Island estate owned by the Larabee family. She's unnoticed by every man until she returns from Paris a "changed woman" — suddenly, she gets all the attention from both Larabee brothers and must choose.
Funny Face
Audrey Hepburn plays a bookshop clerk who is discovered by a fashion photographer, who takes her to Paris to be a model. They galavant through some of the most recognizable places in Paris and fall in love. Romance, comedy, and the sites of Paris — a perfect film for anyone missing Emily.
Forget Paris
Billy Crystal travels to Paris to bury his father, but when the casket is lost, Debra Winger is the only one who can help. (The characters have names, surely? But they exist in my head only as Billy and Debra.) While wandering around Paris, they fall in love. Eventually, their relationship hits a rough patch and their Parisian memories are the only thing that can save it. See? Magical.