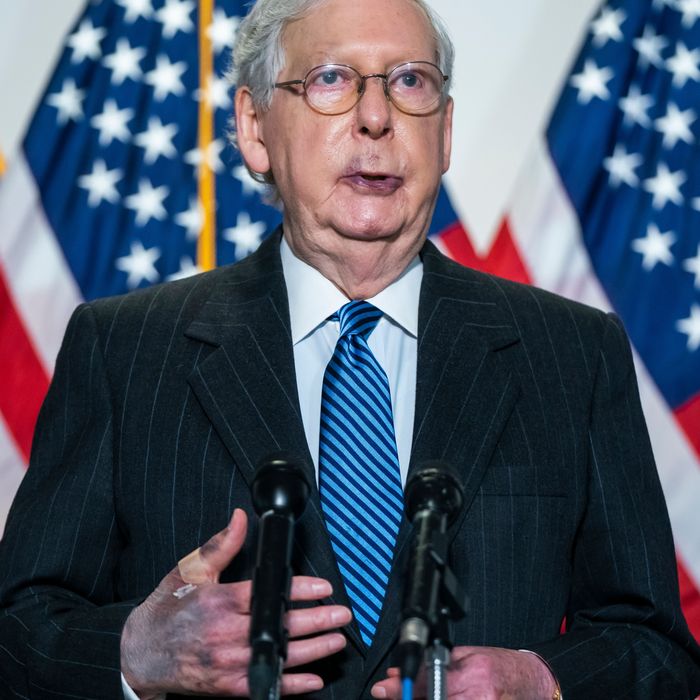 Mitch McConnell.
Photo: JIM LO SCALZO/EPA-EFE/Shutterstock
Earlier this week, an arresting image emerged online: a tightly cropped photograph of discolored, purplish hands bearing a few small bandages, limply hanging from the sleeves of a black suit. They belonged to Senate Majority Leader Mitch McConnell. Due to its haunting nature, the photo — which was captured on October 20 — quickly took off on social-media platforms.
Speculation about McConnell's health abounded, and people pointed out that the area around his mouth also appeared bruised. There were several theories as to what could have happened, with some even wondering whether he might have had the coronavirus. A few days later, McConnell seemed to address the online uproar directly, insisting that absolutely nothing is wrong with his health.
According to the Courier-Journal reports, during a press pool on Capitol Hill yesterday, a reporter asked the longtime Kentucky senator him if there is "anything going on we should know about," to which McConnell responded firmly, "Of course not." When pressed by a different reporter if he was seeing a doctor, McConnell refused to respond.
If McConnell is in good health, as he claims, then the 78-year-old should be able to freely continue pursuing his lifelong passion: thwarting Democratic proposals and bolstering his reputation as one of the greatest obstructionists in U.S. political history. As of now, he's on track to win what would be his seventh six-year term.
Regardless, the purplish hands — and apparent bruising above his lip — are fitting for a man who has proudly referred to himself the "Grim Reaper."