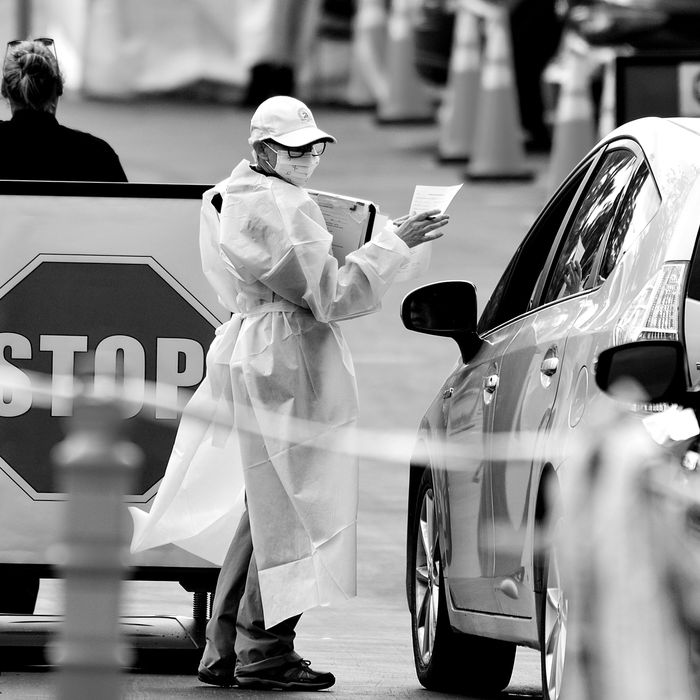 A drive-through COVID-19 screening site in Yorba Linda, California.
Photo: MediaNews Group via Getty Images
We're committed to keeping our readers informed.
We've removed our paywall from essential coronavirus news stories. Become a subscriber to support our journalists. Subscribe now.
In February, the Centers for Disease Control and Prevention warned that the United States should brace for a domestic coronavirus outbreak. Just one month later, the World Health Organization officially declared COVID-19 a pandemic, and President Trump announced a national state of emergency. Over the past eight months, the number of confirmed cases of COVID-19 has risen dramatically, with more than 40 million across the globe. But the U.S. has suffered the largest outbreak in the world. As of October 23, more than 8.4 million people across every state, Washington, D.C., and four territories have tested positive for the disease, and more than 223,000 people with the virus have died.
With coronavirus cases on the rise in nearly 75 percent of the country, we're solidly in midst of a "third wave" of COVID-19. Additionally, the U.S. just recorded more than 75,000 new coronavirus cases in a single day, which is the second-highest daily total since the start of the pandemic.
Here's everything to know about the spread of the virus in the U.S.
How many new coronavirus cases have been confirmed in the U.S.?
As of October 23, there have been at least 8,455,200 confirmed cases of COVID-19 in the U.S., and the death toll is now at least 223,000.
Back in May, President Trump predicted that the U.S. would see "anywhere from 75,000, 80,000, to 100,000" fatalities from the virus. Now, the U.S. has reported more deaths from COVID-19 than any other country. Though the U.S. accounts for 4 percent of the world's population, it has had around 20 percent of the world's coronavirus deaths — by far the largest gap of any affluent country. Still, many public-health experts believe that the official numbers still significantly underestimate the pandemic's true toll. If current trends continue, the University of Washington's Institute for Health Metrics and Evaluation estimates that the death toll could reach 378,000 by the end of the year. Meanwhile, the CDC expects the U.S. could hit 233,000 deaths by the end of the month.
Though cases had been on a downward trajectory after the widespread lockdowns in March and April, the virus spread rapidly throughout the summer — especially in regions of the country that were early to reopen, including the South and West. Now, with cooler weather pushing people indoors, we are seeing another surge in cases. Over the past week, the country has reported an average of 62,166 new cases per day, a 32-percent increase from the average just two weeks earlier. Since Friday, eleven states — Wyoming, Minnesota, Wisconsin, West Virginia, North Dakota, Indiana, New Mexico, Utah, Colorado, Indiana, and Ohio — have set records for single-day increases in their case counts.
California has had the largest outbreak in the country, recording more than 896,424 cases, although Texas, with 891,074 cases, and Florida, with 768,083, face formidable outbreaks of their own. New York, the early epicenter of the pandemic, has recorded a total of 494,874 cases, including 10,739 in the past seven days. Overall, the national trajectory is alarming. Last week, a top CDC official said that coronavirus case numbers are "increasing in nearly 75 percent of the country," with some of the worst outbreaks now occurring in rural areas within the Upper Midwest and Mountain West. Just days ago, Wisconsin — where the positivity rate has surpassed 20 percent — opened a field hospital. According to the New York Times, North Dakota how has the highest number of cases per capita in the country.
Public-health experts have expected this. On October 18, Michael Osterholm, director of the Center for Infectious Disease Research and Policy at the University of Minnesota, told NBC that "the next six to 12 weeks are going to be the darkest of the entire pandemic." Citing the latest peak in cases, he said the surge will likely get even worse as we approach the holidays, with states experiencing caseloads like they never have before. The country will see numbers "much, much larger than even the 67 to 75,000 cases," he said.
The largest COVID-19 outbreaks have been in nursing homes, correctional facilities, and meat-processing plants. Additionally, federal data shows that Black and Latino people in the U.S. have been three times as likely to contract the virus as white people and that they have been nearly twice as likely to die from it. Children of color have also been infected at higher rates and have been hospitalized from the virus at five to eight times the rate of white children.
In recent months, younger people have been testing positive more than any other age group, and many outbreaks have been linked to schools and universities that have resumed in-person classes.
How long will it take to reopen the country?
The widespread lockdowns of March and April have had serious economic consequences, with more than 857,000 workers filing new claims for unemployment benefits in the last week of September. Researchers at Harvard have estimated that nearly 110,000 small businesses closed permanently between early March and early May, and during the same period, an estimated 5.4 million American workers lost their health insurance.
While public-health experts are hesitant to lay out any sort of definitive timeline about reopening, the general consensus is that things won't go back to normal until late next year at the earliest. If we get an effective vaccine early next year and people continue wearing masks and social distancing, "then we could get the level of infection down so low in the community that by the third-quarter end of 2021, we could start thinking in terms of normal," Dr. Fauci told a Senate committee last month. But before then, we'll likely see that states will scale back their reopenings, or even go back into lockdown, which we're already seeing in Europe, where COVID cases are yet again surging.
What has been the federal response to the pandemic?
In March, President Trump declared a national emergency over the coronavirus pandemic, effectively freeing up to $50 billion in federal funds to help states and territories fight the spread of the virus, which he said would include expanding access to testing. He also signed a $2 trillion stimulus plan, the largest in modern American history, which sent direct payments of around $1,200 to millions of Americans who earn less than $99,000, along with an additional $500 per child. Last month, Senate Republicans failed to pass a second, scaled-back aid proposal, which would have included additional funding for unemployment benefits, schools, and vaccine development. Negotiations on a new bill have been ongoing, although on October 6, the president ordered Treasury Secretary Steven Mnuchin to put everything on hold until after the election, claiming that "immediately after I win, we will pass a major Stimulus Bill that focuses on hardworking Americans and Small Business." Disagreement over proposed plans continues apace.
President Trump has repeatedly downplayed the seriousness of the current outbreaks and told his supporters at a rally in Ohio in September that the virus "affects virtually nobody." He has previously falsely claimed that "99 percent" of cases are "totally harmless" — despite the fact that he told journalist Bob Woodward in early February that he knew the virus was airborne and "more deadly than even your strenuous flus." Meanwhile, the Trump administration has asked the Supreme Court to overturn the Affordable Care Act. If they succeed, as many as 23 million Americans would lose access to their health insurance.
This month, however, the president's words caught up with him: On October 1, Trump confirmed that Hope Hicks, a top aide who accompanied him to the first presidential debate aboard Air Force One, had tested positive for the coronavirus. Within hours, he and Melania had tested positive, too. The president's treatment involved several different drugs, some of them experimental; some of them recommended only for the most serious COVID-19 cases. Although he reportedly worried he "could be one of the diers," Trump was back to holding large public events one week later, standing on a White House terrace and repeating his claim that coronavirus is "disappearing" for a crowd gathered on the South Lawn. Still, infections within the president's orbit continued to climb, thanks in part to an apparent superspreader event he recently held in the Rose Garden.
When will we get a coronavirus vaccine?
Fauci had previously said a vaccine would not be ready until at least the end of this year or early 2021. Moncef Slaoui, the chief advisor to the White House vaccine program, said he believed a vaccine would be available by the end of the year, and that there would be enough doses available to immunize the U.S. population "by the middle of 2021." (However, it's likely that a vaccine for children may not be available until much later.) Nine drug companies have issued a joint pledge not to distribute a vaccine until it has been thoroughly vetted, and Governor Andrew Cuomo has said that New York would form a panel of experts to review the safety of any vaccine put forward by the federal government. Meanwhile, the Washington Post reports that the U.S. will not join a global effort to develop and distribute a vaccine, in part because the WHO is involved.
The Trump administration has announced deals to fund vaccine research by a number of companies, including Pfizer, AstraZeneca, Novavax, and Moderna, and researchers have made a number of early steps that look promising. However, AstraZeneca recently announced that it would pause global trials of its vaccine to conduct a safety review after a participant suffered a "serious and unexpected adverse reaction," according to the Times. The incident has prompted criticism from scientists and public-health experts that vaccine companies are operating with a lack of public transparency, particularly with regard to safety concerns.
What should I do to minimize my coronavirus risk?
In most cases, COVID-19 is not fatal, but it appears to pose the greatest risk to elderly people and those with preexisting conditions. According to the CDC, eight out of ten deaths from COVID-19 in the U.S. have been adults age 65 and older. Doctors and medical workers may also be at greater risk, due to their higher-than-average odds of exposure.
The CDC has recommended that Americans wear cloth face coverings while out in public, and more than half of states now require residents to wear masks in public settings when social distancing is not possible.
Speaking on ABC's This Week after Donald Trump was seen wearing a mask in public for the first time in July, Admiral Giroir, the assistant secretary of public health, said, "It's really essential to wear masks," adding, "We have to have like 90 percent of people wearing the masks in public in the hot-spot areas. If we don't have that, we will not get control of the virus."
If you have symptoms associated with coronavirus — coughing, fever, respiratory issues — call your doctor before showing up at their office: The virus is highly contagious and you want to limit the possibility of spreading it. If you are sick, the CDC recommends that you stay home and self-isolate, confining yourself to one room as much as possible and wearing a mask when you have to interact with others. Wash your hands frequently — soap and water and at least 20 seconds of scrubbing — and avoid touching shared household items, cleaning "high-touch" surfaces (like your phone) regularly. Your health-care provider and even local health department will help you determine how long it's appropriate for you to keep up these precautions.
Regardless of whether or not you have symptoms, though, keep your hands clean, and seriously, stop touching your face and just stay home.
This post is being updated daily with new developments.