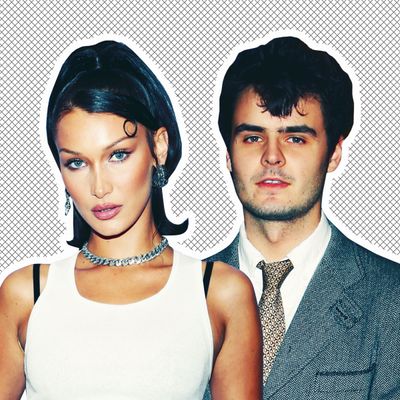 All work and no play means get yourself a new boy … so Bella Hadid went and did exactly that. Or did she? All day, the celebrity-gossip sites have delivered conflicting information on that score. First, "Page Six" claimed the supermodel has been "quietly dating" Duke Nicholson, i.e., Jack Nicholson's grandson. Now, however, Hadid's reps have corrected the record, clarifying to the outlet that "Bella and Duke are not dating." In fact, the reps say, the pair only "met once through mutual friends" and "have not been in touch since." Everybody please calm down!
On Tuesday, an "L.A. insider" told "Page Six" a very different story. The source traced the alleged affair back to September, when Nicholson, 21, "saw" Hadid, 24, during a trip to New York. The so-called insider added that they also traveled together for Hadid's 24th birthday last week. Yet as E! has since pointed out, Nicholson didn't feature on Hadid's Instagram, on which she closely documented a vacation with her pals. "Oh gosh I feel just really lucky," Hadid gushed about the trip. "I usually cancel any kind of big birthday celebration so this year I just wanted to take my beautiful friends on an adventure that was absolutely non refundable."
Previously, Hadid had dated the Weeknd on and off for a few years, but they appear to have broken up for good late last year.
Nicholson is currently trying to make a name for himself in show business, like his grandpa did. A slightly different name. He had a small role in Jordan Peele's Us and can be seen on the cover of Lana Del Rey's latest album, Norman Fucking Rockwell! His mother is a designer, and his father is a former pro surfer. A recent Hollywood Reporter profile described Nicholson as "6 foot 1" with "shaggy hair and striking, almost menacing looks." He is also "convivial, if nervous," but not — according to the model's reps — Bella Hadid's new boyfriend.
This article has been updated with a comment from Hadid's reps.