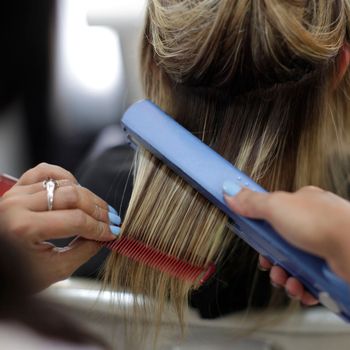 Photo: Felipe Dana/AP/Shutterstock
Brazilian Blowout and similar products called keratin treatments, a hair straightener that promises results lasting up to several months, have continued to be sold and administered at salons despite evidence they contain formaldehyde, a chemical that's been linked to cancer. Many salon workers and people who use the product have long complained fumes from the product sting their eyes, and cause headaches, nosebleeds, nausea, and difficulty breathing. The New York Times reported on Wednesday that, according to internal emails, the Food and Drug Administration has allowed these products to stay on the market against the recommendations of its own scientists.
According to the Times, the labels on Brazilian Blowout products claim they are "formaldehyde-free" or don't list formaldehyde as an ingredient. Instead, many list as a key ingredient methylene glycol, which becomes formaldehyde gas when it comes into contact with air. Instructions for these products — which salons charge hundreds of dollars to apply but can also be bought in stores and self-administered — call for them to be applied to hair, which is then blow-dried and set using a hair straightener heated to at least 380 degrees.
Used in this way, experts warn, the heat converts the liquid methylene glycol into formaldehyde gas, which can be toxic to breathe in. Brazilian Blowout has claimed since it first came under legal scrutiny in 2011 that methylene glycol and formaldehyde are not the same substance. But the products' own safety data sheet implies that the two are interchangeable, listing the chemical as "methylene glycol (formaldehyde)."
Brazilian Blowout, which came onto the market in the United States more than a decade ago, has elicited plenty of health concerns from people who have come into contact with the product, especially salon workers. By 2015, the Times reports, the FDA had received dozens of complaints about the products. One hairstylist, for instance, said that the treatments had caused her migraines, blurred vision, a sore throat, nausea, and the loss of her sense of smell.
As early as 2011, members of Congress urged the FDA to underwrite a voluntary recall of two Brazilian Blowout products, citing concerns they contained dangerously high levels of formaldehyde. The Wall Street Journal reported at the time that an Oregon Occupational Safety and Health Administration (OSHA) study had analyzed the products and found that they contained average formaldehyde levels of 8 percent — well beyond Oregon OSHA's threshold for disclosure of formaldehyde in a product, which is 0.1 percent. Mike Brady, chief executive for Brazilian Blowout at the time, said in response that the product was "perfectly safe" and "gives people the hair of a lifetime and generates money for the economy."
So why then do these products and others like them continue to be marketed and sold? The FDA's reasoning is not exactly satisfying or clear. According to the Times, scientists in the FDA's cosmetics division have been assessing the potential risk in using these chemical hair straighteners since 2014. FDA scientists found hair-straightening products containing formaldehyde to be unsafe in 2016. The FDA has the authority to ban ingredients from cosmetic products, a power it has exercised for a dozen ingredients already, and internal emails indicate FDA lawyers started drafting a ban on hair straighteners containing formaldehyde.
And yet by the end of 2016, the FDA had reassigned its lawyer working on the case and halted the process completely by December 2016, just before Donald Trump's administration settled into the White House. An FDA spokesperson told the Times that the agency considered the ban "as one of several potential actions" and was instead focusing its attention on other kinds of products, such as tattoo ink and talc.