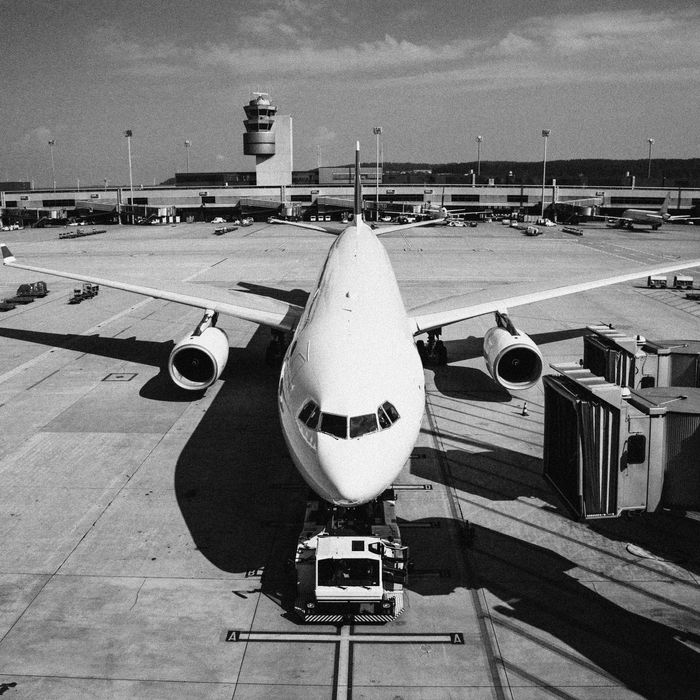 Photo: MOAimage/Getty Images
A woman on a commercial flight about to take off from Arizona to Texas died this summer while the plane was still sitting on the tarmac. "It became difficult for her to breathe, and they tried to give her oxygen," a Dallas County official told local news. "It was not successful. She died on the jetway."
It has only now been confirmed, three months later, that the woman died of COVID-19.
The as-of-yet unidentified passenger, a woman in her 30s from the suburb of Garland, Texas, died on July 25, the official, Judge Clay Jenkins, said. Per Jenkins, she had underlying high-risk health conditions. The county was only just notified that her cause of death was officially COVID-19; it's unknown whether or not the passenger knew she was positive for coronavirus while she was traveling. The name of the airline has not been released.
The disclosure came as Jenkins announced an additional 592 cases of coronavirus and three deaths in Dallas County. He expressed frustration with Texas governor Greg Abbott, who has relaxed restrictions in the state despite ongoing infections. Hospitalizations in Texas are going up, along with the number of cases in 25 other states.
"What happens with that is people hear that, they may not be going to a bar but they think it's now safe to have friends over to watch the Cowboys game or do something else they want to do," Jenkins said. "We keep jumping the gun and it puts us back in a situation which hurts public health and businesses and schools."