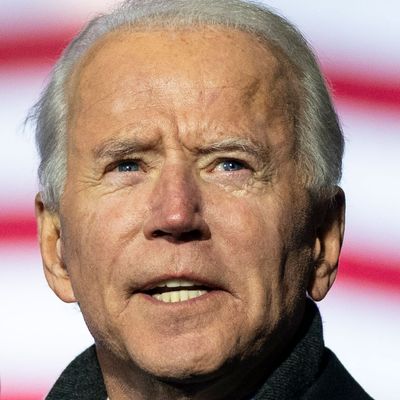 Joe Biden.
Photo: Drew Angerer/Getty Images
Please allow yourself a long exhale, because it appears Democrat Joe Biden has won the presidency. On Saturday, November 7, after more than three long days of vote-counting, the Associated Press, MSNBC, and CNN all called the 2020 election in Biden's favor, with 284 electoral votes and 214 for his opponent, incumbent Donald Trump.
"I am honored and humbled by the trust the American people have placed in me and in Vice President-elect Harris," Biden said in a statement. "In the face of unprecedented obstacles, a record number of Americans voted. Proving once again, that democracy beats deep in the heart of America. With the campaign over, it's time to put the anger and the harsh rhetoric behind us and come together as a nation. It's time for America to unite. And to heal. We are the United States of America. And there's nothing we can't do, if we do it together."
From the beginning, Biden framed his campaign as a referendum on the "soul of America," a fight to defeat "shadow and suspicion" with "hope and light." His win is historic for many reasons, the multi-day ballot-counting period and the pandemic chief among them. But he also named California senator Kamala Harris as his running mate: the first Black woman, and the first woman of South Asian descent, ever nominated on a major-party ticket. Harris spoke openly — and personally — about systemic racism, including one notable instance when she criticized Biden's record on segregation. Trump, by contrast, leaned heavily on overt xenophobia throughout his campaign, continuing to coddle white nationalists, encourage violence against his critics, and downplay his disastrous mishandling of the coronavirus. And despite all of it, the race was still close enough that Biden's win was not clear until he eked ahead in many close battleground-state races, with Trump managing to snare 70,590,524 to Biden's nearly 74,846,612.
As expected, Election Night plunged the country into an excruciating limbo: All along, experts indicated that we would not know the results on November 3, and as the returns rolled in, the contest remained uncomfortably close. Biden sustained a lead in the popular vote, and ultimately, the decision came down to a handful of swing states: Arizona, which Biden looked poised to officially flip as the networks called the race; Georgia, where he pulled ahead of Trump on Friday, the first time a Democrat has won the state since Bill Clinton in 1992; Michigan, which the AP called for Biden on Wednesday evening; Wisconsin, a close contest also awarded to Biden; and ultimately Pennsylvania, which gave Biden the largest prize of 20 electoral votes on Saturday morning.
Still, I bet you are wondering: Is the nightmare over? Assuredly not. On Thursday night, as his ballot voting leads dwindled, Trump delivered remarks riddled with misinformation for the second time since Election Day. He accused Democrats of "trying very obviously to commit fraud," claiming the mail-in vote in places like Detroit and Philadelphia was compromised with little evidence; multiple lawsuits filed by his campaign in those states have been thrown out. His speech followed desperate calls earlier in the day from his sons Eric and Don Jr. to intervene in vote counts, including a tweet by Don Jr. that recklessly said Trump must "go to total war over this election." On Friday, the Trump campaign issued a more sober statement from the president, emphasizing that "this election is not over."
Responding to news of Biden's victory, Trump put out another statement, characteristically peppered with misinformation and inaccuracies. Insisting again that "this election is far from over," Trump vowed that his "campaign will start prosecuting our case in court" on Monday.
There is no doubt that Trump will likely pursue every single legal avenue he has, no matter how flimsy, until they are exhausted, though Biden's campaign manager has said that they have "legal teams standing by ready to deploy to resist that effort." "They will prevail," she added.
This post has been updated with statements from both campaigns.