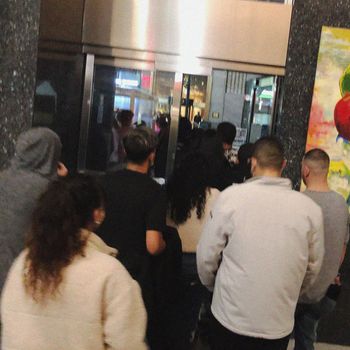 Select attendees of the latest busted party.
Photo: New York City Sheriff's Office
Another weekend, another illicit party busted by law enforcement — this time, mere blocks from one of New York City's most widely despised areas. Sheriff's deputies reportedly caught nearly 400 barefaced revelers partying indoors, well into early Saturday morning, at a building near Penn Station.
Around 2:45 a.m., deputies arrived at 202 West 36th Street — yes, two blocks north of Penn Station — where they found at least 393 people and dozens of liquor bottles inside. According to the New York Times, attendees were charged for entry and drinks, though party organizers had not obtained a liquor license or permit to serve alcohol on the premise. Four people — the D.J., plus three others who were working at the party — now face charges for violating the state's emergency coronavirus orders, which include limits on gatherings. Per ABC News, they also face charges for breaking "penal, health, [and] alcohol-beverage-control laws."
Even as coronavirus cases have continued to rise drastically in recent weeks, underground parties have proliferated across New York City. Over Halloween weekend, law enforcement shut down two massive warehouse parties, where a combined 1,000 people were in violation of public-health safeguards; two weekends ago, deputies busted two large parties on opposite sides of the East River, including one at a sex club in Queens, where 80-some people were not wearing masks. In the past several months, deputies have been busting around two large events every weekend, Sheriff Joseph Fucito told the Times. On Thanksgiving night, deputies came upon an illegal gathering of more than 76 people in Corona, Queens, according to the Sheriff's office's Twitter.
There are a number of reasons that people would brazenly flout public-health orders. Some may act recklessly because they're skeptical — or in denial — of COVID-19, even though the virus has infected more than 13.4 million and killed over 265,000 Americans in under a year. Additionally, as Jay Van Bavel, a professor of psychology and neuroscience at New York University, noted to the Times, many people are "suffering fatigue from lack of social interaction," which is taking a deep toll on people's mental health.
But as the CDC itself cautions, there are safer ways to alleviate loneliness: A quick phone call to a friend or loved one, or even a smaller, safer outdoor hang can go a long way. And if the overwhelming desire to party strikes, well, you can always hit up a virtual club — maybe you can't meander about throngs of sweaty strangers, seeking out someone only moderately regrettable to kiss, but you can still dance and wake up with an hangover.