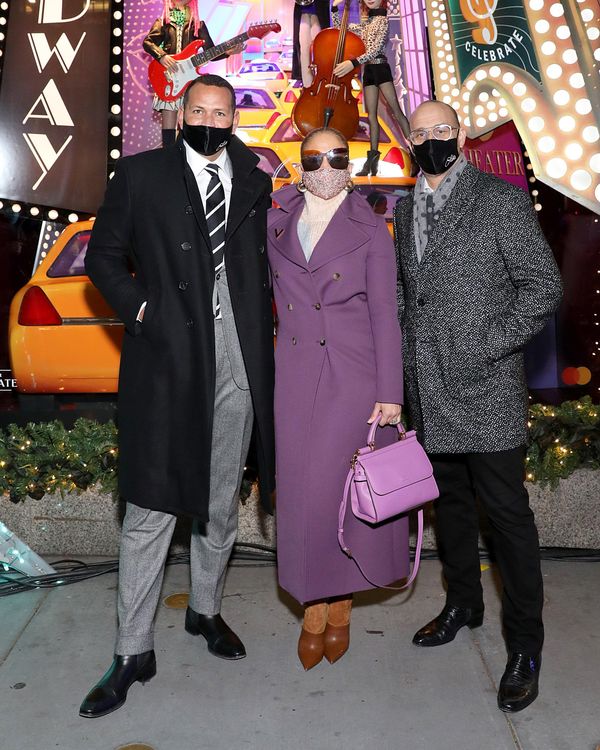 Alex Rodriguez, Jennifer Lopez, and Marc Metrick.
Photo: Courtesy of Saks
Monday night, Saks Fifth Avenue unveiled new holiday window displays along with a light show hosted by Alex Rodriguez (yes, J.Lo was there, too). The theme for Saks's 96th-annual holiday window reveal is "This Is How We Celebrate," with six new windows depicting New Yorkers celebrating in locations across the city, including Dyker Heights, a Brooklyn neighborhood famous for its elaborate light displays.
The windows and in-store displays feature designer fashion from brands like Alexander McQueen, Dries van Noten, and Valentino. The ten-story theatrical LED light display is the first of many Saks Lights Up Fifth Avenue events that will continue to be held over the coming weeks via global livestream.
"At Saks, it is our priority to create unique and memorable experiences that connect with our customers in a meaningful way," said Saks president and CEO Marc Metrick in a statement. "We recognize that celebrations during this time will take many forms. As such, this holiday season, more than ever, our customers are looking to Saks for the fun and escapism for which we are known. After several challenging months for New Yorkers and those around the world, Saks is proud to continue this long-standing tradition and deliver our annual gift to New York as a part of our commitment to revive the city for our community, customers, and associates."
These reimagined holiday events will be hosted by members of the fashion and entertainment community as well as NYC notables. Each event will benefit a charitable cause, chosen by the host. Last night, the department store made a donation to the Madison Square Boys & Girls Club, an organization dedicated to enhancing the lives of youths in New York City.
"To me, this season is about giving back and thinking of others, rather than ourselves. A lot of amazing things can be done when people come together and pay it forward," said Rodriguez. "The Boys & Girls Club really shifted — perhaps saved — my life. That's why I am so happy to give back to that organization this season and create opportunities for the next generation."
Upcoming hosts include Sutton Foster, Dominique Jackson, Gayle King, Hasan Minhaj, and Antoni Porowski. The Cut asked them to tell us the best gift they ever received. Read on for the answers.
"Do you remember Easy-Bake Ovens? When I was young, I fell in love with them the first time I saw the commercial, so I was so excited when I finally got one for myself … too bad those culinary skills didn't last to adulthood." —Gayle King




"A Game Boy with Toxic Crusaders and Yoshi games last year. JK, I was ten." —Antoni Porowski




"I think some of the best presents are the 'experience presents.' My husband planned a surprise date for us for our anniversary two years ago. We took a Latin jazz class at Lincoln Center and saw a jazz show at Dizzy's in Time Warner. It wasn't a present that I could hold in my hand, but it was a present that I hold in my memory forever." —Sutton Foster




"The best gift I ever received was the love and support of family and friends." —Dominique Jackson




"The best gift I've ever received is my children. No-brainer. How crazy would it be if I said, "Air Jordans in the eighth grade"? Although, those were a close second." —Hasan Minhaj