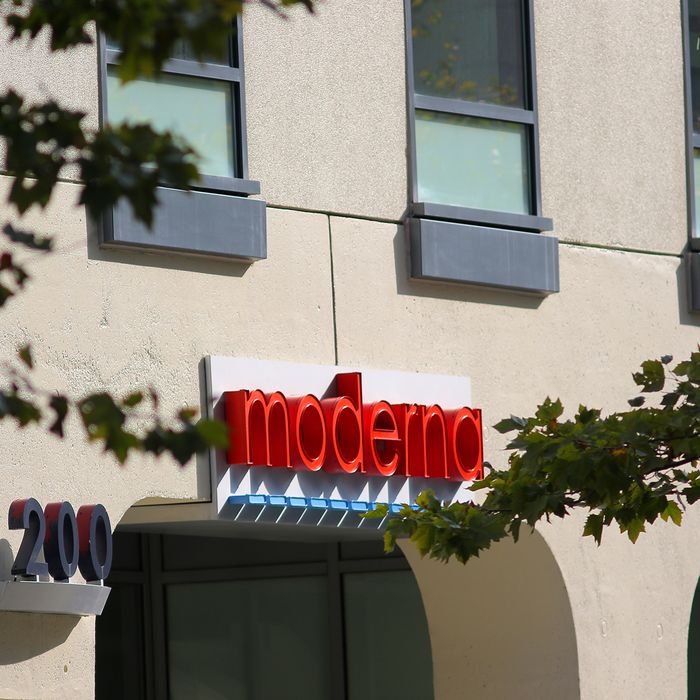 Photo: Lane Turner/The Boston Globe via Getty Images
Do we perhaps have more reason for cautious optimism in the face of the powerfully resurgent COVID-19 pandemic? A week after Pfizer announced preliminary data from drug trials that indicate its vaccine could be more than 90 percent effective at preventing the contraction of COVID-19, a second company, the biotechnology firm Moderna, announced results from its own preliminary trial for an experimental COVID-19 vaccine with an even greater rate of prevention.
The New York Times reports that on Monday researchers with Moderna said early research indicates their vaccine could be 94.5 percent effective at preventing COVID-19 infection. Moderna's study reports that 95 trial subjects contracted COVID-19. Of those, 5 people had received the vaccine, and 90 had received a placebo. Each of the study's 11 severe cases occurred in the placebo group. An independent data-safety board assigned by the National Institutes of Health reviewed the results.
Moderna's chief executive Stéphane Bancel told the Washington Post that he found the possibility of the vaccine preventing severe cases of COVID-19 most exciting. "If a [vaccine] could prevent 95 percent of people to not get disease, but to not get severe disease, that would be a game changer: the impact on hospitals, the impact on people's psyche, and the impact on deaths."
The study has yet to be published or peer-reviewed, and the vaccine's effectiveness could fluctuate as trials continue. The vaccine is currently being tested in 30,000 individuals. Moderna could complete its trial and apply for emergency-use authorization just ahead of Thanksgiving. Bancel said he thinks the vaccine could become available to high-risk individuals as early as the second half of December, and is aiming to produce 20 million doses by the end of the year. Dr. Anthony Fauci, director of the National Institute of Allergy and Infectious Diseases, has conjectured that after the vaccine is distributed among people most at risk, it could become available to the rest of the population as early as April.
Moderna, which has never marketed a vaccine before, has already been given around $2.5 billion by the U.S. government to support its vaccine development and purchase doses, according to the Times. Moderna's COVID-19 vaccine is being co-developed by Fauci's National Institute of Allergy and Infectious Diseases. Fauci, who was briefed on Moderna's findings Sunday morning, said it was "extremely good news," and that "if you look at the data, the numbers speak for themselves." He added that the vaccine's nearly 95 percent prevention rate has exceeded his hopes for a vaccine this early on. "I had been saying I would be satisfied with a 75 percent effective vaccine," he said. "Aspirationally, you would like to see 90, 95 percent, but I wasn't expecting it."
Pfizer and Moderna were first out of the gate with their preliminary vaccine development, but we may be in for more of these announcements as 10 other companies enter phase three of vaccine trials and more than 50 languish in earlier stages of testing. Participants in both Pfizer and Moderna's trials have so far only reported minor side effects from the vaccines: fatigue, fever, joint and muscle aches.